Pancake Day isn't just a day to enjoy a plate of tender pancakes slathered in syrup or your favorite toppings. What we call Pancake Day is Shrove Tuesday.
Shrove Tuesday is the day before Ash Wednesday, the beginning of Lent in the Christian religions. In 2018 that day is Tuesday February 13.
Traditionally Christians give up certain foods or habits during Lent, the 40 day period before Easter. In Anglo Saxon times, Christians would go to confession just before Lent and would be absolved of their sins – or "shriven". So on Shrove Tuesday we are starting out clear from sin and beginning the fasting before Easter.
It is thought that people would make pancakes on Shrove Tuesday to use up the rich ingredients in their pantry, like eggs and milk, just before Lent, since they won't be able to eat them during that time.
The pancake ingredients are also thought to be symbolic of important Christian ideas:
Eggs symbolize creation.
Flour is the staff of life.
Salt represents wholesomeness.
Milk is a symbol for purity.
Wikipedia defines a pancake (also called a hotcake, griddlecake, or flapjack) as "a flat cake, often thin and round, prepared from a starch-based batter that may contain eggs, milk and butter and cooked on a hot surface such as a griddle or frying pan, often frying with oil or butter."
In North America we tend to think of eating pancakes with syrup, pure maple syrup being the ultimate pancake topping. Brits enjoy pancakes with lemon juice and sugar or golden syrup. I come from a part German home, where light fluffy pancakes were often topped with applesauce. Pure delight and still a favorite of mine.
So whether you are a pancake traditionalist, want healthy pancakes using a variety of flours (including gluten free) or want to try new pancake variations, you will find lots of tasty recipes for celebrating Pancake Day right here. Bring on the syrup!
Pancake Day Recipes
I call this first recipe our EASY pancake recipe, but they're all easy. Just pick your favorite and go for it.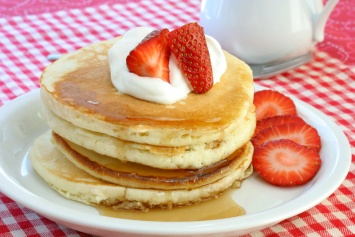 Our Easy Basic Pancake Recipe
More delicious pancake day recipes on the site:
Super Tender Buttermilk Pancakes
Blueberry Buttermilk and Sour Cream Pancakes
Why not dress up Pancake Day for breakfast, lunch and dinner with delicate crepes?
Or for Pancake Day with a twist try:
Italian Manicotti made with Crepes

Don't forget to Sign up here for site updates and never miss a great recipe. (It's free)
If you like this page, please take a moment to share it on your favorite social media. You can add your comments below. Thanks a lot.