This asparagus bread is amazing!
It's a bit similar to a foccaccia bread, but it doesn't use a yeast based dough, so it's super easy to make. This cheesy asparagus bread also has ham or prosciutto added to it.
It's perfect for brunch or a weekend breakfast with your favorite eggs. Or at lunch with a beautiful salad.
How about your own version of eggs benedict with perfectly poached eggs sitting on this asparagus and ham bread, covered with Hollandaise sauce? I'd be in heaven.
There are two ways of making this vegetable bread. One is the simple way that is outlined below. The other is a bit different and is the version shown in the image above and below. Take the spears of asparagus and wrap each one with a bit of very thinly sliced ham or Italian prosciutto. I would use the prosciutto because it has such a distinctive and wonderful flavor. Place the individually wrapped asparagus spears in the batter as the recipe outlines below.
Either way you make it, this bread is fabulous and will quickly become one of your favorite brunch recipes.
Making it vegetarian is simple. Just leave out the ham or prosciutto and you have a wonderful vegetarian vegetable and cheese bread.
Tip: Taking the Dry End off Asparagus
When you are using asparagus it's important to remove the dry stem end. The usual method is outlined below in the recipe. My suggestion though is not to hold the very tip of the asparagus to remove the woody end of the stem. Hold the upper part of the stem past the head and a bit farther into the stem. Then break off the woody end, but only where it feels like there is some resistance. If you hold the spear right at the upper tip, it will bend somewhere in the middle and you'll end up removing too much of that beautiful asparagus spear and wasting it.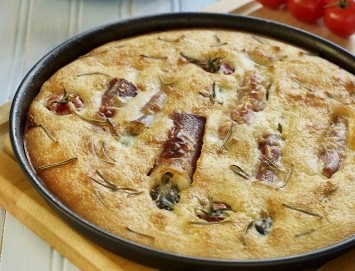 Asparagus Bread
This asparagus bread is amazing! It's a bit similar to a foccaccia bread, but is more of a soda bread than a yeast based dough. This easy bread has cheese, asparagus and ham or prosciutto added to it. It's perfect for brunch or a weekend breakfast with your favorite eggs. Or at lunch with a beautiful salad.

Ingredients
1

pound

asparagus spears

4

ounces

ham

,

or Italian prosciutto, thinly sliced, cut into strips

1

green onion

2

cups

flour

1

tablespoon

baking powder

1/2

teaspoon

salt

1/2

teaspoon

black pepper

2

eggs

1 1/4

cups

milk

3

tablespoons

butter

,

melted

1

cup

Asiago

,

or cheddar cheese, shredded

1

teaspoon

fresh rosemary

,

optional
Instructions
Preheat the oven to 375ºF.

Break asparagus spears at their natural break by holding in one hand and bending with the other hand until it breaks. This point is usually about 1/4 of the way up the spear and removes the woody stem end.

Pour water into large skillet to a 1" depth. Bring to a boil then add the asparagus, arranging them in 2 layers. Cover and cook for 2 minutes or until bright green and still crisp. Drain then chill under cold water. Dry on towels.

In a large bowl, stir together the flour, baking powder, salt and pepper. In another bowl, whisk together the eggs, milk and butter. Pour the wet mixture over the flour fixture. Add the green onion and 3/4 cup of the cheese. Stir until just smooth.

Spoon half of the batter into a greased 9" square or round cake pan and spread evenly. Arrange half the asparagus spears in a single layer over the batter. Sprinkle with ham. Spoon the remaining batter into the pan and spread it across the pan. Arrange the remaining asparagus as before and sprinkle the top with the rest of the cheese and the fresh rosemary.

Bake for 50 to 60 minutes or until the bread is golden and a toothpick inserted into the center of it is dry.

Let the asparagus bread cool in the pan for 10 minutes before turning it out or cutting it.
Nutrition
Calories:
225
kcal
Carbohydrates:
26
g
Protein:
13
g
Fat:
8
g
Saturated Fat:
4
g
Trans Fat:
1
g
Cholesterol:
56
mg
Sodium:
634
mg
Potassium:
248
mg
Fiber:
2
g
Sugar:
3
g
Vitamin A:
598
IU
Vitamin C:
3
mg
Calcium:
278
mg
Iron:
3
mg
This recipe makes about 9 pieces.
If you want to make two asparagus breads, simply double the batter recipe and divide the asparagus between the two cake pans. Still good, just a little less asparagus in it. Or you can use 2 pounds of asparagus of course.
This is one of my favorite asparagus recipes. It combines healthy asparagus with two of my other favorite foods, cheese and bread. You really can't beat that combination for great flavor.
If you love this asparagus bread, you might also like this wonderful asparagus quiche.
Browse all of my breakfast and brunch recipes right here.
Want to be the first to know about new recipes and posts on Cookingnook.com? Sign up here for site updates and never miss a great recipe.
If you like this recipe, please take a moment to Pin it to Pinterest, Tweet about it, Like it on Facebook and leave a comment below. Thanks a lot.