Baked Fish Recipe: Orange Roughy
2013-07-13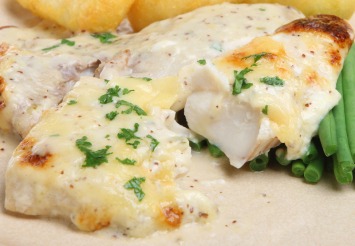 Average Member Rating
(4.1 / 5)
7 people rated this recipe
Servings :

4

Prep Time :

20m

Cook Time :

25m

Ready In :

45m
Nutritional Info
This information is per serving.
Calories

321

Total Fat

14.5g

Saturated Fat

5.1g

Cholesterol

79mg

Sodium

650mg

Total Carbohydrates

16.6g

Dietary Fiber

1.5g

Protein

30.0g

Vitamin A

19%

Vitamin C

58%

Calcium

9%

Iron

11%
Add to Recipe Box
This baked fish recipe calls for orange roughy, but any white fish with a thick flesh will work well.
Some people don't want to use orange roughy because it has been quite overfished around the world, so just substitute another fish, like haddock, catfish or cod.
This wonderful orange roughy recipe was shared by Helen from Canada. She says: My family loves Orange Roughy. It is a very "meaty" tasting fish. You can use orange juice in place of lemon if you prefer. This dish goes well with hot white, brown or wild rice.
Orange Roughy Recipe
Ingredients
1 pound fresh or frozen Orange Roughy, cod or catfish fillets
1 cup onion, chopped
1 cup red and/or green sweet pepper, chopped
2 teaspoons bottled minced garlic
1 tablespoon cooking oil
1 can condensed cream of shrimp or cream of mushroom soup (Do Not Dilute)
3/4 cup half-and-half or light cream
1 teaspoon lemon juice
1/2 teaspoon lemon-pepper seasoning
1/4 cup fine dry bread crumbs
1/4 cup Parmesan cheese, freshly grated
Method
Step 1
If using frozen fish, thaw, rinse and pat dry with paper towel. If necessary, cut fish into serving size pieces.
Step 2
Put the onion, sweet pepper and garlic in a large skillet or frying pan with hot oil and cook just until tender. Place the cooked vegetables into a 2-quart greased baking dish. Place the fish on top of the vegetables and bake uncovered in 400 degree oven for 10 minutes.
Step 3
In the skillet/frying pan used for cooking the vegetables, combine the soup, half-and-half cream, lemon juice and lemon-pepper seasoning. Bring to a boil then reduce heat and simmer uncovered for 5 minutes.
Step 4
Pour the soup mixture over the fish. Combine the Parmesan cheese and bread crumbs in a small bowl. Sprinkle over the soup and fish. Bake uncovered for 5-10 minutes more or until the bread crumbs are brown.
Makes 4 servings.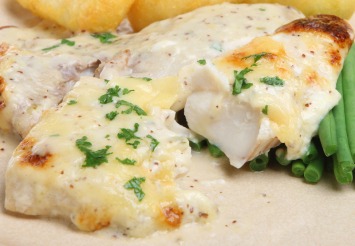 If you like this recipe, I'd love you to Pin it to Pinterest, Tweet about it, Like it on Facebook and leave a comment below.
Subscribe to the site here and never miss a great recipe.
You will find more than one baked fish recipe in our collection here.


---