Healthy Carrot, Zucchini and Banana Muffin Recipe
2013-04-21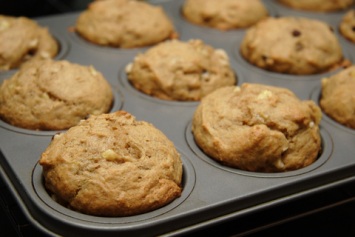 Average Member Rating
(4.3 / 5)
12 people rated this recipe
Yield :

12 muffins

Servings :

12

Prep Time :

15m

Cook Time :

20m

Ready In :

35m
Nutritional Info
This information is per serving.
Calories

193

Calories from Fat

110

Total Fat

12.2g

Saturated Fat

3.4g

Trans Fat

0.0g

Cholesterol

31mg

Sodium

73mg

Total Carbohydrates

19.3g

Dietary Fiber

1.7g

Sugars

8.5g

Protein

2.6g

Vitamin A

32%

Vitamin C

6%

Calcium

4%

Iron

5%
This is not your regular banana muffin recipe. Sure it has a cup of mashed ripe banana, giving the muffins that nice familiar banana taste, but wait…
Add in grated zucchini, grated carrots and some coconut and you have yourself some pretty fine healthy snacking or breakfast muffins.
Carrot, Zucchini and Banana Muffin Recipe

Ingredients
2 eggs, beaten
1/2 cup (125 ml) packed brown sugar
1/2 cup (125 ml) canola oil
1 cup (250 ml) zucchini, grated
1 cup (250 ml) carrots, grated
1 cup (250 ml) ripe banana, mashed
1 cup (250 ml) unsweetened shredded coconut
1 cup (250 ml) all-purpose flour
1 teaspoon (5 ml) baking powder
1/2 teaspoon (2 ml) baking soda
1/2 teaspoon (2 ml) cinnamon
1/2 teaspoon (2 ml) ground nutmeg
Method
Step 1
Preheat oven to 400ºF.
Step 2
In a large bowl, mix together eggs, brown sugar and oil. Add zucchini, carrot, banana and coconut flakes. Mix until well combined.
Step 3
Add flour, baking powder, baking soda, cinnamon and nutmeg. Mix until ingredients are just blended.
Step 4
Evenly divide batter into 12 lightly greased muffin cups. Bake in preheated oven for 20 to 25 minutes or until muffins are golden brown.
Step 5
Remove from oven and cool in pan for 5 muffins. Carefully remove the muffins from the pan and let them cool on a rack for 15 minutes.
Make it Even Healthier:
Want to add even more nutrition to these delightful healthy muffins? Add 1/2 cup chopped walnuts to the batter when you add in the banana etc. And the best part? They are absolutely fabulous tasting, so fabulous that those picky non-vegetable eaters in the house won't even know they are eating their vegetables.
I love this easy muffin recipe too because it doesn't have too much sugar. 1/2 cup of brown sugar for an entire batch of muffins isn't too bad. Plus, if you really want to cut out the sugar and for a diabetic muffin recipe, try the Splenda and brown sugar blend for baking. Or even better – use Stevia (just remember to use less as it is much sweeter than sugar. Follow the suggestions on the package for amounts).
Want muffins even healthier than that? Use coconut sugar, which has a very low glycemic index and can be used cup for cup just like sugar.
You can also replace the white flour with whole wheat flour. Just remember to sift the flour first as whole wheat flour is a bit denser than white flour. It packs a lot more nutrients though, so the switch is worth it in my opinion.
I think you will really love these wonderful healthy muffins. And they are a great way to hide vegetables for kids and veggie haters.
If you like this recipe, I'd love you to Pin it to Pinterest, Tweet about it, Like it on Facebook and leave a comment below. Thanks.
Sign up here and be the first to get new recipes and tips.
Our apricot and banana muffins can be found here.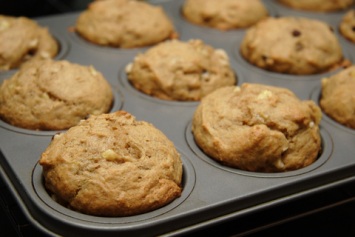 ---