Basic Easy Mustard Barbecue Sauce Recipe
2013-04-21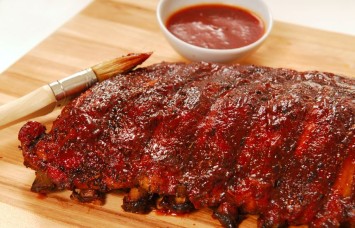 Average Member Rating
(4.8 / 5)
6 people rated this recipe
Yield :

1 2/3 cups

Servings :

10

Prep Time :

5m

Cook Time :

20m

Ready In :

25m
This basic barbecue sauce recipe combines the tanginess of mustard and cider vinegar with the sweetness of molasses or brown sugar for a delicious sauce that will add lots of flavor to any meat.
I think that once you make your own homemade bbq sauce and see how easy it really is, you'll use bottled sauces only occasionally for convenience.
Ingredients
1 - 8 ounce can tomato sauce
1/4 cup cider vinegar
1/4 cup ketchup
1/4 cup water
2 tablespoons molasses or brown sugar
2 tablespoons Dijon mustard
1 tablespoon Worcestershire sauce
1/4 teaspoon salt
1/8 teaspoon black pepper
Method
Step 1
Combine the tomato sauce, vinegar, ketchup, water, molasses, mustard, Worcestershire sauce, salt and pepper in a small non-metallic saucepan. Bring to a boil, uncovered, over moderate heat. Reduce the heat to low and simmer, uncovered, for 15 minutes or until the flavors mellow and the sauce thickens slightly.
Step 2
If you are not using all the sauce within a few days, spoon it into sterilized 1 pint preserving jars. Keep in the refrigerator for up to 2 weeks.
Step 3
Makes 1 2/3 cups
Spicy Sauce Variation:
Add 3/4 teaspoon chili powder and 1/4 teaspoon hot red pepper sauce to ingredients, then proceed as directed.
This is an easy barbecue sauce to make and can be kept in the refrigerator for several days, up to 2 weeks if you spoon it into hot sterilized jars and cap them tightly.
Just make sure to stir it once in a while as you boil the mixture so it doesn't scald in the pan.
You can use a basic barbeque sauce recipe like this one in so many ways. It works for beef, pork or chicken. Try brushing pieces of fish with just a bit of sauce and cooking on the grill. Even vegetables taste great brushed with a little bbq sauce and baked or grilled.
Enjoy experimenting.
If you like this recipe, I'd love you to Pin it to Pinterest, Tweet about it, Like it on Facebook and leave a comment below. Thanks.
Sign up here and be the first to get new recipes and tips.
If you like this barbecue sauce recipe, you will probably also enjoy our BBQ pork ribs. The sauce is just a little different. See which one you prefer.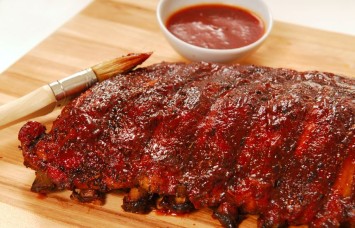 ---