Easy Beer Cheese Soup
2013-04-22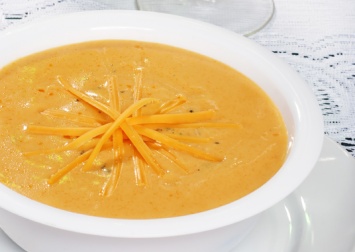 Average Member Rating
(4.7 / 5)
7 people rated this recipe
Servings :

4

Prep Time :

5m

Cook Time :

12m

Ready In :

17m
Nutritional Info
This information is per serving.
Calories

329

Calories from Fat

169

Total Fat

18.8g

Saturated Fat

10.6g

Cholesterol

58mg

Sodium

899mg

Total Carbohydrates

21.9g

Dietary Fiber

4.5g

Sugars

7.3g

Protein

16.3g

Vitamin A

93%

Vitamin C

6%

Calcium

43%

Iron

8%
This beer cheese soup has to be one of the simplest soups in the world!
It is so easy and quick to make you can make it for lunch or supper any day of the week.
It's even less than a 30 minute meal.
To make this into a meal unto itself, prepare some garlic bread while the soup is cooking.
Beer Cheese Soup
Ingredients
2 cups frozen loose-pack cauliflower, broccoli and carrots
1/2 cup beer
1 tablespoon dried minced onion
1 can condensed cream of celery soup
1 cup milk
1 1/2 cups shredded cheddar cheese
croutons for serving (optional)
Method
Step 1
In a 2 quart saucepan, combine the vegetables, beer and minced onion. Cover and cook on medium high heat for 3-4 minutes or until the vegetables are nearly tender.
Step 2
Stir in the soup and milk. Stir in the cheese. Heat, covered, for another 6-8 minutes or until the mixture is hot and bubbly.
Step 3
If desired, you can sprinkle each serving with croutons and/or a bit of extra grated cheese.
Did You Know?…
Don't worry too much about the alcohol in the beer. It will burn off during the cooking.
If you are concerned about it, use a non-alcoholic beer available in most grocery stores and all liquor stores.
It is the taste of the beer you want in this vegetable cheese soup.
Add a salad if you are up to it, but if it's just one of those days, here is an easy dinner recipe that is absolutely fabulous and even gives you a serving of vegetables.
It's a vegetarian recipe too, so all of you non-meat eaters will appreciate that.
If you like this recipe, I'd love you to Pin it to Pinterest, Tweet about it, Like it on Facebook and leave a comment below. Thanks.
Sign up here and be the first to get new recipes and tips.
This beer cheese soup is just one of our easy soup recipes. You may also want to try easy cream of corn soup.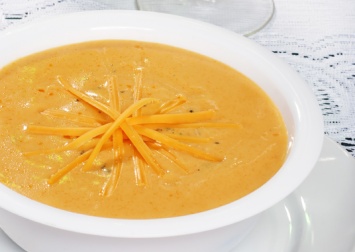 ---