Blueberry Crisp Recipe
2013-04-23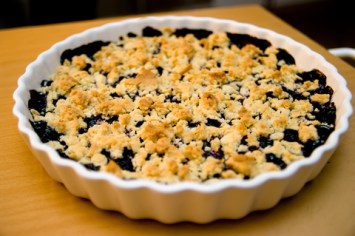 Average Member Rating
(3.9 / 5)
15 people rated this recipe
Servings :

8

Prep Time :

10m

Cook Time :

40m

Ready In :

50m
Nutritional Info
This information is per serving.
Calories

312

Calories from Fat

153

Total Fat

17.0g

Saturated Fat

7.7g

Trans Fat

0.0g

Cholesterol

31mg

Sodium

83mg

Total Carbohydrates

38.1g

Dietary Fiber

3.5g

Sugars

19.9g

Protein

4.8g

Vitamin A

8%

Vitamin C

12%

Calcium

2%

Iron

7%
This blueberry crisp recipe, or blueberry crumble as it is often called, is an easy blueberry dessert.
I think pretty much everyone loves blueberries.
It is wonderful now that no matter where you live, you can pretty much get them any time of the year.
Ingredients
3/4 cup white flour
1/2 cup sugar (or equivalent amount of sugar substitute)
1 teaspoon cinnamon
1/2 cup butter
3/4 cup quick oats
1/2 cup chopped walnuts
4 cups blueberries
Method
Step 1
Mix the flour, cinnamon and sugar together. Add the butter and blend until the mixture is crumbly. Add the oats and nuts. Take 1/4 of the mixture and mix with the blueberries.
Step 2
Place the blueberries in a buttered baking dish. Top with the crumble mixture.
Step 3
Bake at 350° for about 40 minutes.
Step 4
Can be eaten hot or cold.
Variation:
Make this into a frozen blueberries recipe by easily substituting the same amount of frozen blueberries for the fresh ones. Frozen blueberries are so much easier to find and have on hand and the result is just as delicious. Thaw first or cook just a little longer to get the same consistency.
Did You Know?…
Take advantage of fresh blueberries if you can get them, but this recipe can be made with frozen blueberries as well.
Blueberry recipes are not only absolutely delicious, they are extremely health for us too. The nutrients in blueberries and other berries are so nutritious, berries are one of our top 10 healthiesst foods to eat.
Blueberry crisp is an amazing easy dessert recipe. See why blueberries are considered one of our 10 healthiest foods.
If you like this recipe, I'd love you to Pin it to Pinterest, Tweet about it, Like it on Facebook and leave a comment below. Thanks.
Sign up here and be the first to get new recipes and tips.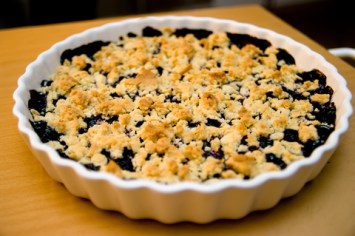 Recipe Comments
---