Spaghetti Carbonara
2013-04-25
Average Member Rating
(4.3 / 5)
10 people rated this recipe
Servings :

4

Prep Time :

5m

Cook Time :

12m

Ready In :

17m
Nutritional Info
This information is per serving.
Calories

692

Total Fat

32.6 g

Saturated Fat

14.1 g

Trans Fat

0.0 g

Cholesterol

351 mg

Sodium

1014 mg

Total Carbohydrates

66.5 g

Dietary Fiber

0.7 g

Sugars

2.0 g

Protein

32.8 g

Vitamin A

16%

Vitamin C

6%

Calcium

15%

Iron

33%
I went through a period where I made this spaghetti carbonara recipe at least once a week.
I must have had my fill for a while, because I haven't made it for several years. Seeing the recipe again makes me yearn for it yet again. It is one of my favorite easy Italian recipes.
It is a wonderful recipe when you want something quick yet warm, filling and comforting.
This pasta recipe is so quick and easy, dinner will be on the table in less than 20 minutes. So gather everything together before you start and enjoy.
Ingredients
1 pound spaghetti
salt and freshly ground pepper to your taste
1/2 teaspoon oil
1 onion, peeled and finely sliced
5 - 6 slices bacon
1 cup mushrooms, washed and sliced
4 tablespoons butter
1/3 cup Parmesan cheese
5 eggs, beaten
1 tablespoon freshly chopped parsley (optional)
Method
Step 1
Cook the spaghetti in a large saucepan of boiling salted water with the oil added per instructions on the package. Drain well.
Step 2
Meanwhile, slice the onion and dice the bacon. Wash and slice the mushrooms. Melt half the butter in a large pan and cook the onion and bacon for 5 minutes over a low heat. Add the mushrooms and cook another 3 minutes. Toss the drained spaghetti in the other half of the melted butter over a medium heat for a few seconds. Season with pepper and add the Parmesan cheese. Toss the spaghetti into the pan with the onion, bacon and mushrooms and mix well. Add the seasoned beaten eggs and stir vigorously into the mixture. Cook over the heat for a few minutes until the eggs are somewhat cooked and the mixture is thick and creamy.
Step 3
Serve sprinkled with chopped parsley alongside a mixed green salad and fresh crusty Italian rolls.
Tips:
Note that the eggs shouldn't look like scrambled eggs when you are done. They will mix with the other ingredients like the butter and Parmesan cheese and make a rich, creamy sauce.
The recipe says to cook the onions and bacon in butter. I think the bacon has enough fat in it as it is, so I cook the onion and bacon together just in the bacon's own fat, then add the 2 tablespoons of butter complete the recipe.
If you don't like mushrooms, simply leave them out.
It's not authentic, but for added color and nutrition you can also add one chopped tomato to the carbonara just as you are adding the pasta to the bacon mixture. It just needs to warm through.
Like this recipe? I'd love you to Pin it to Pinterest, Tweet about it, Like it on Facebook and leave a comment and your own recipes below.
Sign up here and be the first to get new recipes and tips.
Spaghetti carbonara is just one of our delicious Italian recipes. Find them all here.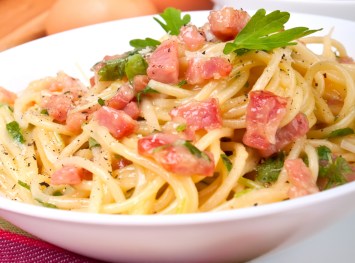 ---