Falafel (sometimes spelled felafel) is one of my favorite Middle Eastern recipes.
Made with chick peas, this is a wonderfully healthy vegetarian recipe.
It is most often served in a fresh warm pita bread slathered with chopped tomatoes, sliced onions and Tahini sauce, a traditional sauce made with ground sesame seeds.
The mixture is made into balls just smaller than an average meatball. They are fried, but I guess you could bake them if you wish. Frying makes them nice and crunchy on the outside, while still being soft and savory on the inside.
The mix of spices make it so tasty without being spicy or hot.
Of course, just about anything tastes better with the addition of garlic and onions and this falafel recipe has both.
Cilantro, coriander and cumin are common spices in Mediterranean recipes, particularly in Middle Eastern cuisine.
Bulgur wheat is also used often and you find it used here to hold the balls together.
If you haven't every tried making your own Middle Eastern recipes, I think you will be pleased with this. Paired with a salad, a falafel recipe in a pita is a fantastic vegetarian dinner option. And they are SO good, no one will miss the meat.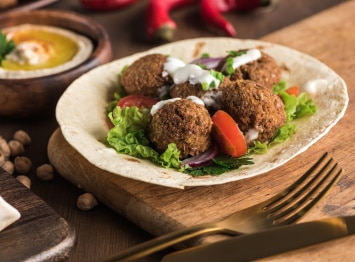 Falafel Recipe
Falafel is one of my favorite Middle Eastern recipes. I love it served in a fresh warm pita bread slathered with chopped tomatoes, sliced onions and Tahini sauce or hummus.

Ingredients
1

pound

chickpeas

,

canned

1

slice

bread

,

day-old, crust removed

1

onion

,

quartered

4

cloves

garlic

,

or to taste, peeled

2

tablespoons

cilantro

,

chopped, or parsley

1

tablespoon

ground coriander

1

tablespoon

ground cumin

1 - 2

teaspoons

salt

1/4 - 1/2

teaspoon

cayenne pepper

dash

pepper

3

tablespoons

flour

,

or bulgur wheat

1

teaspoon

baking powder

vegetable oil for frying
Instructions
Drain and rinse the chickpeas, reserving about 3-4 tablespoons of the liquid. Dry the chickpeas well and set aside.

Drizzle 1 tablespoon of the reserved liquid over the bread and allow it to soak in. Squeeze the bread dry, then put the bread and chickpeas into a food processor and process until a soft paste forms. You may need to do this in batches. Transfer the mixture to a large bowl.

Put the onion into the processor and process until finely chopped. Add the chopped onion to the chickpea mixture. Process the garlic and cilantro until finely chopped and add them to the chickpea mixture. Add the coriander, cumin, salt and cayenne pepper to the mixture and season to taste with pepper. Stir to combine. Sprinkle the flour and baking powder over the mixture. Use your hands to mix until a soft dough forms, adding more of the reserved liquid if necessary.

Use wet hands to shape the mixture into walnut-size balls and set them on a baking sheet. Felafel can be prepared ahead of time to this point, then refrigerated until time to cook.

Heat 3 inches of vegetable oil in a deep-fat fryer or wok to 350 - 375°F or until a cube of bread browns in 30 seconds. Working in small batches, slide the balls into the oil and cook for 2-3 minutes or until a rich golden brown colour, turning to colour evenly. Use a slotted spoon to transfer the balls to paper towels and allow to drain.

Serve warm in pita bread with salad, hot pickles and Tahini. Use 3 balls per pita.
Nutrition
Calories:
104
kcal
Carbohydrates:
18
g
Protein:
5
g
Fat:
2
g
Saturated Fat:
1
g
Trans Fat:
1
g
Sodium:
772
mg
Potassium:
197
mg
Fiber:
4
g
Sugar:
3
g
Vitamin A:
100
IU
Vitamin C:
2
mg
Calcium:
73
mg
Iron:
3
mg
Note:
You can use 1/4 to 1/3 cup dry bread crumbs in place of the stale bread, but the bread is better.
I also love to add freshly made hummus to the falafel sandwich. Hummus and falafel seem to be a pairing made in heaven to me.
If you like falafel, have a look at all of our Middle Eastern Recipes here.
Subscribe to the site here and never miss a great recipe.
If you like this recipe, please take a moment to share it on your favorite social media. Thanks a lot.