Flounder Stuffed with Garlic Shrimp
2013-05-05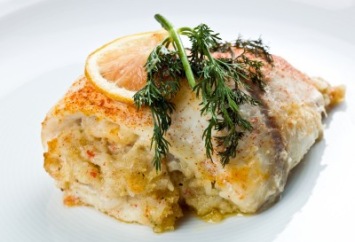 Average Member Rating
(4.1 / 5)
11 people rated this recipe
Servings :

4

Prep Time :

20m

Cook Time :

15m

Ready In :

35m
Nutritional Info
This information is per serving.
Calories

278

Calories from Fat

62

Total Fat

6.9g

Saturated Fat

1.6g

Cholesterol

190mg

Sodium

351mg

Total Carbohydrates

7.1g

Sugars

0.7g

Protein

41.5g

Vitamin A

5%

Vitamin C

3%

Calcium

9%

Iron

15%
Add to Recipe Box
This is a delicious stuffed flounder recipe that is very easy to make. It's an easy baked fish recipe that you can make any night of the week.
You don't need to use flounder either. Make stuffed fish by replacing it with any thin fillets of whitefish that will roll easily over the filling.
Stuffed Flounder

Ingredients
1 tablespoon olive oil
1/2 pound peeled and deveined shrimp, cut up (or use the small shrimp)
1/2 teaspoon minced garlic
1/3 - 1/2 cup unseasoned dried bread crumbs
2 tablespoons grated parmesan cheese
1 pound flounder fillets
1/4 cup white wine or non-alcoholic white wine
1/2 tablespoon parsley
Method
Step 1
Preheat the oven to 350°F.
Step 2
Heat the oil in a large skillet over medium-high heat. Add the shrimp and garlic and cook, stirring frequently, for 5 minutes, or until the shrimp is opaque. Remove to a large bowl. Add the bread crumbs and cheese and stir to combine.
Step 3
Place the flounder fillets on a work surface. Evenly divide the shrimp mixture among the fillets, spreading almost to the edge. Roll the fillets around the filling from the short. Secure with wooden picks.
Step 4
Place the rolls in a 13"x9" baking dish. Pour the wine into the dish and over the fish. Sprinkle with the parsley. Bake for 15 minutes or until the fish flakes easily.
Variations:
Replace the flounder with any thin fillets of whitefish. Sole works well, but so do thinner fillets of haddock, halibut or cod.
Stuffed fish will taste just as wonderful with pieces of scallop or crab in the filling. Or mix it up and use a combination of two or three seafoods for the filling.
The seafood filling is just yummy. Cut up larger shrimp or buy the more economical tiny shrimp and use them whole. I prefer the taste of the larger shrimp, but either works well.
Stuffed fish always seemed so gourmet to me and I thought it would be difficult to make. It sure isn't difficult, but it does taste like a gourmet feast.
Serve this lovely stuffed fish recipe with rice, steamed green beans and a large salad. It makes a great diabetic recipe too. Just serve with more veggies and less rice.
If you like this recipe, I'd love you to Pin it to Pinterest, Tweet about it, Like it on Facebook and leave a comment or your own favorite recipe below.
Sign up here and be the first to get new recipes and tips.
Stuffed flounder is just one of our delightful seafood and fish recipes. Find them all here.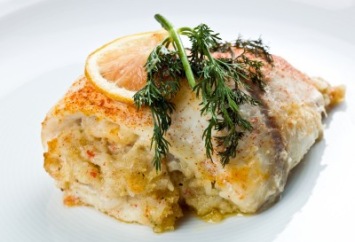 ---