Olive Garden Frittata Recipe
2013-07-04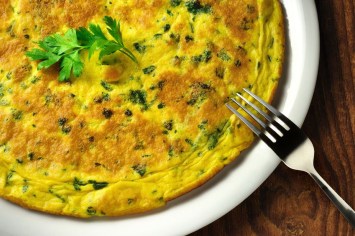 Average Member Rating
(4.9 / 5)
9 people rated this recipe
Servings :

4

Prep Time :

20m

Cook Time :

40m

Ready In :

60m
Nutritional Info
This information is per serving.
Calories

692

Total Fat

47.8g

Saturated Fat

22.1g

Cholesterol

391mg

Sodium

1361mg

Total Carbohydrates

26.4g

Protein

38.4g

Vitamin A

24%

Vitamin C

7%

Calcium

34%

Iron

18%
This frittata recipe submitted by Charleeta Southwick from Manteca, California is said to be an Olive Garden copycat recipe.
I haven't had it, so I can't say for sure that it is, but it looks really good.
What is a frittata? Simply an omelet, Italian style.
Olive Garden Frittata Recipe
Ingredients
6 medium eggs
2 cups half and half cream
5 teaspoons cornstarch
1 cup spaghetti, broked into 2" pieces and cooked
4 green onions, sliced into rounds
6 slices bacon
4 ounces Fontina cheese, grated
Method
Step 1
Preheat oven to 350°F.
Step 2
Cook the bacon and crumble it when cooled.
Step 3
Beat the eggs, half and half, cornstarch, salt and nutmeg thoroughly until all ingredients are completely blended.
Step 4
Blend the 2" spaghetti pieces, green onion rings and bacon pieces in another bowl until evenly mixed.
Step 5
Coat a 1 1/2 quart round baking dish, including walls, with spray or margarine. Empty the spaghetti mixture into the baking dish and spread evenly. Add the frittata batter to cover the filling mix.
Step 6
Bake in a 350°F oven for about 25 minutes until the center is set. When center is set, cover the frittata evenly with the Fontina and bake until cheese is golden.
Step 7
Turn off the heat and open the oven door. Let the frittata sit in the open oven for 15 minutes for the batter to set more firmly and make removing from the dish easy.
Step 8
Before serving, sprinkle with Parmesan and cut into 4 wedges.
Tip:
Don't have Fontina cheese? Substitute mozzarella, cheddar or another cheese that melts well and would taste good with the Parmesan.
Simply delicious.
Like this recipe? I'd love you to Pin it to Pinterest, Tweet about it, Like it on Facebook and leave a comment below.
Subscribe to the site here and never miss a great recipe.
Have a look at another of our frittata recipes here.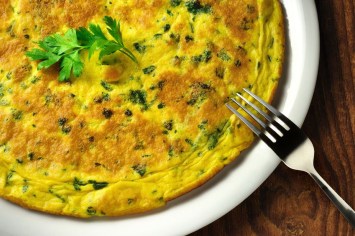 Click here to add your own favorite recipes.

Recipe Comments
---