This hearty kale soup recipe is wonderfully healthy and full of flavor.
Other than the chorizo sausage, that some might question, I don't think there is an ingredient in the recipe that isn't super healthy for us. And the chorizo gives this kale and sausage soup extraordinary flavor.
If you are looking for chorizo recipes that are a bit different, give this one a try. The mixture of the sausage, tomatoes, garlic and onions give this simple soup recipe extraordinary flavor. The kale adds even more flavor and ups the nutritional content even more.
Just look at how healthy this easy soup recipe is. Super high in Vitamins A and C, plus lots of protein, calcium, iron and potassium. The bit of saturated fat and trans fat comes from the sausage. Just use the best quality sausage you can.
You can serve this soup recipe as a first course, but it works really well served as a main course. Just add a salad and maybe some bread, gluten free if you need, and dinner is ready. I love one pot meals like this. It is so quick it makes a great weeknight dinner recipe, or you can make it ahead, put it in the refrigerator overnight and dinner is ready in minutes the next day.
Here is what the recipe developer Camilla Saulsbury, says about her kale soup recipe:
"The first few spoonfuls of this meaty soup, enriched with potatoes, teff and kale, will have you dreaming of the warm sunshine of Spain and Portugal." I agree.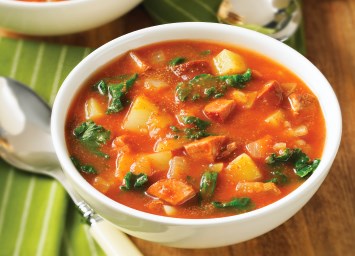 Chorizo and Kale Soup Recipe
This hearty kale soup recipe is wonderfully healthy and full of flavor. Other than the chorizo sausage, that some might question, all of the ingredient in the recipe are super healthy.


Ingredients
1

tablespoon

olive oil

12

ounces

chorizo

,

gluten-free, or other smoked sausage, diced

2

cups

onions

,

chopped

4

cloves

garlic

,

minced

6

cups

kale

,

chopped, tough stems and center ribs removed

3

cups

potatoes

,

peeled and diced

1/3

cup

teff

8

cups

vegetable broth

,

or chicken broth

28

ounces

crushed tomatoes

,

canned

sea salt and freshly ground black pepper
Instructions
In a large pot, heat the oil over medium-high heat. Add the chorizo and cook, stirring, for 3 to 4 minutes or until the sausage is browned. Using a slotted spoon, transfer the chorizo to a plate lined with paper towels to drain off the excess fat.

Add the onions to the pot and cook, stirring, for 6 to 8 minutes or until softened. Add garlic and kale; cook, stirring, for 1 minute.

Stir in the potatoes, teff and broth; bring to a boil. Reduce the heat to medium-low, cover, leaving the lid ajar, and simmer, stirring occasionally, for 15 to 20 minutes or until the potatoes and teff are very tender. Use a wooden spoon to coarsely break up about half of the potatoes.

Return the chorizo to the pot and stir in the tomatoes; simmer, uncovered, stirring occasionally, for 5 to 10 minutes or until the soup is slightly thickened. Season to taste with salt and pepper.
Notes
Store the cooled soup in an airtight container in the refrigerator for up to 2 days or in the freezer for up to 6 months. Thaw overnight in the refrigerator or in the microwave using the Defrost function. Warm the soup in a medium saucepan over medium-low heat.
If you can't find teff you can replace it with other gluten free grains like quinoa, millet, brown rice or amaranth. Keep in mind that using another grain will affect the taste a bit.
Nutrition
Calories:
313
kcal
Carbohydrates:
39
g
Protein:
14
g
Fat:
13
g
Saturated Fat:
4
g
Cholesterol:
27
mg
Sodium:
1606
mg
Potassium:
968
mg
Fiber:
5
g
Sugar:
9
g
Vitamin A:
5889
IU
Vitamin C:
88
mg
Calcium:
145
mg
Iron:
4
mg
Makes 8 servings.
Spinach used to be thought of as the "must eat" vegetable. Now people are savvy about the health benefits of kale, an ancient vegetable long ignored in our western culture. Kale is certainly making a comeback, and it's well deserved. This is such a super healthy vegetable and so good for us. Find ways to put kale on the menu more often.
This healthy soup recipe is gluten free and a good diabetic diet recipe.
This hearty kale and chorizo soup is a great way to do that. It's kind of a triple duty recipe – it contains healthy kale, it's a gluten free soup recipe for those of us who need or want great gluten free recipes, and it introduces many of us to a fabulous ancient grain, teff.
What is Teff?
Teff is one of the ancient grains, cultivated for centuries. It is a species of grass native to Ethiopia and Eritrea, where it is grown in abundance and is a staple in the traditional diets.
Teff has a very mild flavor which some find a bit nutty in taste. It is super healthy and packs a serious nutritional punch. Teff has an excellent balance of amino acids, and it is also high in protein, calcium, and iron."1
Teff flour is an excellent alternative to wheat flour in gluten free diets and can make a wide variety of baked goods.
You should be able to find teff in your bulk food store or health food store. This is a great way to experiment with a new grain like teff.
Click here to learn more about the amazing health benefits of one of our super power foods, kale.
If you like this kale soup recipe, try our buttered kale with cranberries and pine nuts. I think you will love it.

Don't forget to Sign up here for site updates and never miss a great recipe.
If you like this recipe, please take a moment to Pin it to Pinterest, Tweet about it or Like it on Facebook. Thanks a lot.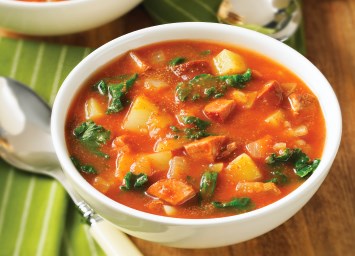 You can find this and other wonderful gluten-free recipes in Camilla's new cookbook, Bob's Red Mill Everyday Gluten-Free Cookbook: 281 Delicious Whole-Grain Recipes

Courtesy of Bob's Red Mill Everyday Gluten-Free Cookbook by Camilla V Saulsbury, 2015 © www.robertrose.ca Reprinted with publisher permission.
1. https://www.teffco.com/what-is-teff/