Lemon Tarts
2013-05-11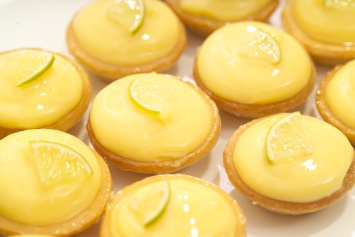 Average Member Rating
(4 / 5)
10 people rated this recipe
Yield :

22 tarts

Servings :

22

Prep Time :

20m

Cook Time :

12m

Ready In :

32m
Nutritional Info
This information is per serving.
Calories

180

Calories from Fat

100

Total Fat

11.1g

Saturated Fat

4.8g

Cholesterol

36mg

Sodium

93mg

Total Carbohydrates

18.6g

Sugars

9.3g

Protein

2.0g

Vitamin A

3%

Vitamin C

4%

Calcium

1%

Iron

4%
Sometimes you want the taste of lemon but not the whole pie. These lemon tarts are the perfect answer.
They have a delicious sweet tart lemon filling that everyone will love.
Enjoy.
Lemon Tarts
Ingredients
2 cups flour
1/2 teaspoon salt
2/3 cup shortening
5-6 tablespoons cold water
1/2 cup butter or margarine
1 cup sugar
1 tablespoon cornstarch
3 eggs, beaten
1/2 cup lemon juice
Method
Step 1
Preheat oven to 400°F.
Step 2
For the shells, combine the flour and salt. Cut in the shortening with a pastry blender until the mixture resembles coarse meal. Sprinkle cold water evenly over the surface. Stir with a fork until all the dry ingredients are moistened. Shape the dough into a ball and chill.
Step 3
When chilled, roll the dough to 1/8 inch thickness on a lightly floured surface. Cut into 3 1/4 inch rounds. Fit each pastry round into 3 inch tart pans. Prick with a fork.
Step 4
Bake in a preheated oven for 10-12 minutes. Let cool.
Step 5
For the lemon filling:
Step 6
Place the butter in the top of a double boiler. Bring the water in the double boiler to a boil. Reduce the heat to low, and cook until the butter melts. Combine the sugar and cornstarch, stirring well. Add to the butter and stir until smooth. Stir in the eggs and cook for 5 minutes, stirring constantly. Add the lemon juice. Cook 3-4 minutes longer or until the mixture thickens, stirring constantly. Cool. Spoon a rounded tablespoon of lemon filling into each cooled tart shell.
Step 7
Before serving, top each tart with a dollop of whipped cream, if desired. Makes 22 tarts.
This tart recipe is also perfect for a dessert tray any time of the year.
They will be a big hit at the next bake sale too, or any time you put them on the table.
Great for entertaining, great for everyday, everyone will love this wonderful tart recipe.
If you like this recipe, I'd love you to Pin it to Pinterest, Tweet about it, Like it on Facebook and leave a comment and your own recipes below.
Sign up here and be the first to get new recipes and tips.
If you love these lemon tarts, have a look at our other recipes that feature the taste of luscious lemons as well as other citrus fruits.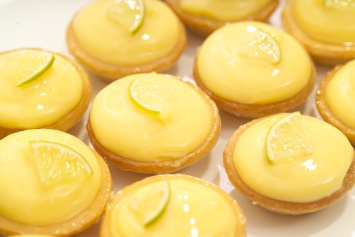 ---