You can make this Mexican quinoa recipe as mild or as spicy as you like. I prefer non-spicy myself, but I know much of the world loves hot and spicy food. This recipe allows you to choose your heat level.
Quinoa is a fantastic grain. It's gluten free and has a higher protein content than most grains, so it's great for diabetics and those who want to watch their carb count. (It's not low carb though). Quinoa has a mild taste and it takes well to flavors that you add to it, so it's great for hot or cold salads with veggies.
This quinoa recipe can be made as spicy or as mild as you like. If you don't like spicy, just leave out the chili peppers and even the cayenne pepper. It will still be delicious but mild. I have to admit I am a mild spice person. I would leave out the chili peppers myself. But if you like heat – go for it!
How to Cook Quinoa:
Raw quinoa has a natural coating on it that can be bitter if you don't rinse it before you cook it. Now you can see packaged quinoa in stores that has already been rinsed and it will tell you on the package that it doesn't need to be rinsed before cooking. If yours doesn't say that, I would rinse it. It only takes a minute and you will make sure the quinoa will taste great.
To rinse the quinoa, place it in a strainer (Not a colander. The holes are too big and you will lose the quinoa down the drain.) Place the strainer with the quinoa in it under running water and let the water run over it for about a minute. Move the strainer around under the water to make sure all of the quinoa has had lots of water run over it. Tap the strainer against the side of the sink a couple of times to remove excess water, then place the quinoa into a pot, ready to boil.
Cooking quinoa is easy and pretty much the same as cooking rice. Add 1 cup of quinoa and 2 cups of stock or water to a pot. Cover the pot and put it on a burner on high heat until it begins to boil. Then lower the heat to low and let the quinoa and water mixture sit at low heat, covered, for 15 to 20 minutes, until all of the liquid has been absorbed. Remove the pot from the heat, fluff the quinoa with a fork and it's ready to use in whatever recipe you want.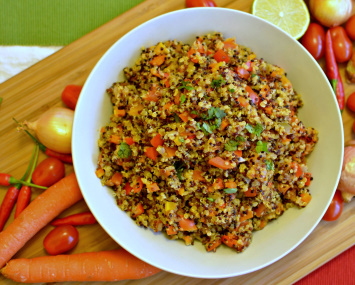 Mexican Quinoa
You can make this Mexican quinoa recipe as mild or as spicy as you like. Quinoa is gluten free and has a mild taste. It takes well to flavors that you add to it, so it's great for hot or cold salads with veggies.




Ingredients
1

cup

quinoa

2

cups

chicken stock

,

vegetable stock or water

1

onion

,

chopped

2

cloves

garlic

,

chopped

1

carrot

,

chopped

1

red pepper

,

or green yellow or orange , chopped

2

chili peppers

,

hot or to your taste, chopped

10

cherry tomatoes

,

sliced into quarters

1

teaspoon

cumin

1/4

teaspoon

ground cayenne pepper

,

or to your taste

oil

,

for frying

1/2

cup

cilantro

,

chopped
Instructions
To cook the quinoa, rinse it first in a strainer (see notes below). Place it in a pot and add 2 cups of water or broth. Cover the pot, bring the mixture to a boil, then lower the temperature to low and let it sit for 15 to 20 minutes, until all of the water has been absorbed.

Meanwhile, heat about 2 teaspoons of oil in a frying pan to medium heat. Put the onion and garlic in the pan and saute for a few minutes to soften. Add the chopped carrots, bell peppers, hot chili peppers, cumin and cayenne pepper to the pan. Stir together well and cook for about 10 minutes.

Add the sliced cherry tomatoes and chopped cilantro before serving. Stir to combine into the quinoa.
Nutrition
Calories:
240
kcal
Carbohydrates:
40
g
Protein:
10
g
Fat:
4
g
Saturated Fat:
1
g
Cholesterol:
4
mg
Sodium:
193
mg
Potassium:
642
mg
Fiber:
5
g
Sugar:
6
g
Vitamin A:
3957
IU
Vitamin C:
52
mg
Calcium:
51
mg
Iron:
3
mg
That's it. Enjoy.
If you want this recipe to be vegan, simply choose the vegetable stock instead of the chicken stock. All of the other ingredients are both vegan and gluten free.
Like this Mexican quinoa recipe? We have another vegetable quinoa recipe here, this one with zucchini.
You can browse all of our other Mexican flavored recipes here.
Click here to sign up and be the first to get new recipes and tips






If you like this recipe, please take a moment to Pin it to Pinterest, Like it on Facebook and leave a comment below. Thanks a lot.