Navy Bean Soup
2013-05-13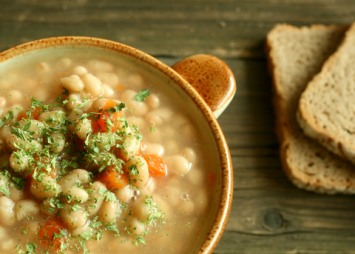 Average Member Rating
(3.9 / 5)
36 people rated this recipe
Servings :

6 to 8

Prep Time :

20m

Cook Time :

2:000 h

Ready In :

2:20 h
Nutritional Info
This information is per serving.
Calories

276

Calories from Fat

61

Total Fat

6.8g

Saturated Fat

2.2g

Trans Fat

0.1g

Cholesterol

14mg

Sodium

289mg

Total Carbohydrates

38.7g

Dietary Fiber

14.8g

Sugars

3.4g

Protein

16.1g

Vitamin A

36%

Vitamin C

10%

Calcium

11%

Iron

19%
Navy bean soup (or white bean soup recipe as it is sometimes called) is one of our tastiest soup recipes.
It is a very traditional soup, mostly using simple ingredients that you have on hand in your kitchen, yet it can't be beat for great flavor.
Navy Bean Soup
Ingredients
1 pound navy beans (or 1 large can of navy beans)
2 1/2 quarts water
1/4 cup diced salt pork
3/4 cup carrots, diced
3/4 cup onion, chopped
3/4 cup celery, chopped
3/4 cup raw potato, chopped
1 garlic clove, chopped
1 small piece of bay leaf
2 whole cloves
6 to 8 cups water
salt and pepper
1 ham bone
1 tablespoon chopped parsley
Method
Step 1
Soak dried navy beans (or other white beans if desired) in the 2 1/2 quarts of water overnight. Discard the soaking water.
Step 2
When ready to make the soup, fry the salt pork in a stock pot. Add the onions, carrots, celery, and potato. Lightly sauté until soft but not brown. Add the seasonings and ham bone. Add the water, enough to cover the ingredients in the pot.
Step 3
Cover and bring to a boil slowly. Reduce heat once it boils and simmer gently for about 2 hours. Remove the ham bone and set it aside. Remove any meat on the ham bone, dice and add to the soup. Add the seasonings and simmer gently for a few minutes. Serve topped with chopped parsley.
Tips:
This recipe calls for a ham bone, but you can substitute 4 ounces of chopped ham. The ham bone gives this soup a wonderful flavor and is a great use for the leftover ham bone.
Leave the ham out totally for a vegetarian bean soup recipe. It really is tastier with the ham though.
The recipe calls for a ham bone and this bean soup is a terrific recipe for using up a leftover ham bone.
You don't have to wait to have a ham bone on hand to enjoy this recipe though. Just substitute 4 to 6 ounces of chopped ham.
The ham bone does give the soup a wonderful rich flavor though, so if you have the ham bone, use it.
You can make this soup vegetarian simply by leaving any of the meat out. I do think in this case that the ham does add extra flavor, but you can certainly make it a good vegetarain soup too.
If you like this recipe, I'd love you to Pin it to Pinterest, Tweet about it, Like it on Facebook and leave a comment and your own favorite recipes below.
Sign up here and be the first to get new recipes and tips.
This delicious navy bean soup is just one of our wonderful soup recipes. Find them all here.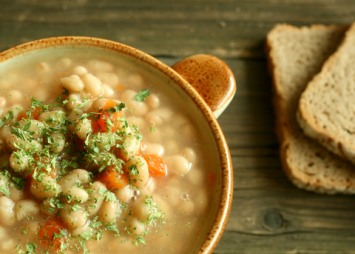 ---