Salmon Fillet Recipes:
Poached Salmon with Basil Vinaigrette
2013-05-19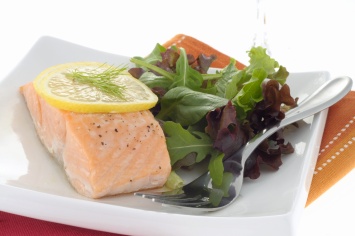 Average Member Rating
(4.8 / 5)
8 people rated this recipe
Servings :

6

Prep Time :

10m

Cook Time :

10m

Ready In :

20m
Nutritional Info
This information is per serving.
Calories

543

Calories from Fat

361

Total Fat

40.2g

Saturated Fat

7.0g

Trans Fat

0.0g

Cholesterol

112mg

Sodium

249mg

Total Carbohydrates

3.5g

Dietary Fiber

0.9g

Sugars

1.4g

Protein

39.9g

Vitamin A

37%

Vitamin C

22%

Calcium

5%

Iron

7%
This one of the nicest poached salmon fillet recipes I have tried.
With this easy recipe you are serving gourmet salmon, but it is really so so easy.
Poached Salmon with Basil Vinaigrette

Ingredients
6 salmon fillets (or steaks)
3 tablespoons white vinegar
1 cup onions, thinly sliced
1/2 cup carrots, thinly sliced
6 parsley sprigs
1 teaspoon thyme, dried
3 whole cloves
6 whole peppercorns
salt to your taste
Vinaigrette:
2 teaspoons Dijon-style mustard
2 tablespoons capers, drained
2 tablespoons fresh parsley, chopped
2 tablespoons fresh basil, chopped
1 tablespoon white vinegar
1 tablespoon lemon juice
salt and pepper
1/2 cup light flavored oil
1/2 cup olive oil
Method
Step 1
Place the salmon in a large, shallow pan and add enough cold water to come 3/4 of the way up the salmon at its thickest part.
Step 2
Add white vinegar, onions, carrots, parsley, thyme, cloves salt and peppercorns. Bring to a boil.
Step 3
Lower heat and simmer gently for 3 minutes (slightly longer if you are using very thick steaks or fillets).
Step 4
Remove the salmon from the poaching liquid with a slotted spoon and drain. Set aside.
Step 5
Place all of the ingredients for the vinaigrette, except the oils, in a food processor (a blender will do) and pulse until well combined.
Step 6
With the machine running, add the oils in a thin stream until they are well mixed. Season with salt and pepper.
Step 7
Serve the salmon cooled or cold with the basil vinaigrette drizzled over it.
It is one of the nicest fresh salmon recipes for summer or entertaining.
I love easy dinner recipes that work well for entertaining.
Anything that makes life easier on the cook is good for me.
This fantastic fish recipe is also extremely healthy. Salmon is one of our 10 healthiest foods and for good reason. It is packed with nutrients and Omega 3 fatty acids, essential for a healthy body.
This is a perfect recipe for diabetics. Salmon is lean and healthy and this whole recipe is very low carb, which is perfect for a diabetic.
If you like this recipe, I'd love you to Pin it to Pinterest, Tweet about it, Like it on Facebook and leave a comment and your favorite recipes below.
More salmon fillet recipes? Try our Cedar Plank Salmon Recipe.
All of our fish and seafood recipes, including more salmon recipes, can be found here.
Subscribe to the site here and never miss a great recipe.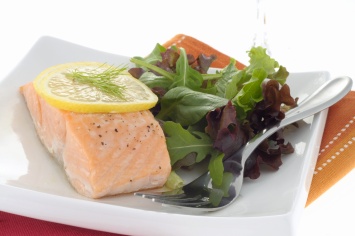 ---