Seven Layer Salad
2013-05-19
Average Member Rating
(3.7 / 5)
17 people rated this recipe
Servings :

8

Prep Time :

15m

Cook Time :

0m

Ready In :

15m
Nutritional Info
This information is per serving.
Calories

459

Calories from Fat

307

Total Fat

34.1g

Saturated Fat

10.5g

Trans Fat

0.0g

Cholesterol

134mg

Sodium

788mg

Total Carbohydrates

24.6g

Dietary Fiber

2.9g

Sugars

9.6g

Protein

15.3g

Vitamin A

25%

Vitamin C

40%

Calcium

25%

Iron

9%
This seven layer salad is easy to prepare and looks beautiful, especially if you have it in a deep clear glass bowl that allows you to see all the goodies layered inside.
Whether you can see the 7 layers or not, it tastes just as good.
Seven Layer Salad
Ingredients
2 cups mayonnaise or Miracle Whip
1 tablespoon sugar
1 head of lettuce, shredded
1 cup celery, diced
1/2 cup sweet red pepper, diced
4 hard-cooked eggs, chopped
10 ounces frozen green peas, uncooked
1 small sweet onion, diced
8 slices cooked bacon, crumbled
1/2 cup black or green olives, sliced (optional)
1/2 pound cheddar cheese, grated
Method
Step 1
Combine the mayonnaise and sugar. Mix and refrigerate it until you finish making the salad.
Step 2
Layer the rest of the ingredients in a bowl. Lay a layer of lettuce on the bottom of the bowl first, then a full layer across the bowl of each of the other ingredients. Put the layers in whatever order you want, but if you have a clear sided bowl, I like to alternate colors so it looks prettier.
Step 3
Spread the mayonnaise/sugar mixture over the top of the salad like cake icing. Sprinkle grated cheese evenly over it all (or as one of the middle layers). Seal the bowl with plastic wrap and refrigerate overnight (or for 8 to 12 hours before serving).
Step 4
This salad looks beautiful served in a glass bowl so you can see the layers. Add chopped fresh parsley or cilantro on top if you want, for a great look and extra taste. Mix it all together just before serving.
This easy make ahead layered salad is great to serve at a buffet or pot luck. It also makes a delicious summer salad entree.
You can make it healthier by omitting the layer of bacon or replacing it with chopped cooked chicken breast.
If you like this recipe, I'd love you to Pin it to Pinterest, Tweet about it, Like it on Facebook and leave a comment below.
Click here to add your own favorite recipes.
Subscribe to the site here and never miss a great recipe.
Find more delicious salad recipes like this seven layer salad here.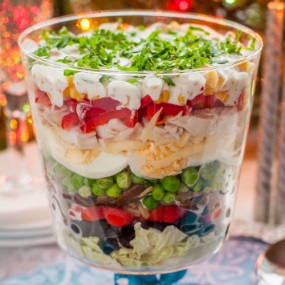 ---