Quinoa and Spinach Stuffed Tomato Recipe
2019-09-28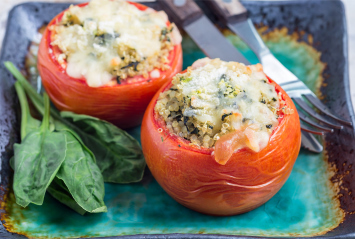 Average Member Rating
(5 / 5)
5 people rated this recipe
Servings :

4 to 6

Prep Time :

30m

Cook Time :

20m

Ready In :

50m
Nutritional Info
This information is per serving.
Calories

178

Total Fat

4.4g

Cholesterol

4mg

Sodium

292mg

Total Carbohydrate

27.6g

Dietary Fiber

4.9g

Protein

8.6g

Vitamin D

0mcg

Calcium

93mg

Iron

3mg

Potassium

705mg
This is a wonderful stuffed tomato recipe. The healthy filling has spinach and quinoa, a tasty grain with lots of protein.
If you are not used to cooking quinoa, see the directions below. It's really easy, pretty much like cooking rice.
This recipe is a great side dish but also makes a perfect vegetarian main course. Leave out the cheeses and it's a great vegan meal too.
Give this one a try and let me know how you like it.
Quinoa and Spinach Stuffed Tomatoes

Ingredients
1 cup dry quinoa
2 cups water or broth
1 box frozen spinach or 4 cups fresh spinach, chopped
1 teaspoon oil
1/4 cup fresh parsley, chopped
1 onion, chopped
1 clove garlic, chopped
1/4 cup grated Parmesan cheese (optional)
salt and pepper to taste
8 small to medium tomatoes
1 cup mozzarella cheese, shredded (optional)
Method
Step 1
Cut the tops off of the tomatoes. Very gently use a knife to cut around the inside of the tomato, to loosen it. Use a spoon to gently scoop out the inside of the tomatoes, being careful not to pierce the outside wall.
Step 2
When the tomato is cleaned out inside, place it cut side down on a kitchen towel or paper towels for 5 minutes or so to drain some of the excess liquid out of the inside of the tomatoes.
Step 3
Put 2 cups of water in a medium sized pot. Rinse your quinoa in a strainer under running water for 30 seconds or so, then add it to the pot. Bring the water to a boil, then lower the temperature to low and cook for 15 to 20 minutes, until all of the water has been absorbed, similar to cooking rice.
Step 4
In the meantime, add 1 teaspoon of cooking oil to a frying pan and heat to medium. Add the chopped onion and saute until it is beginning to get soft. Add the garlic and spinach and cook for another few minutes.
Step 5
When the quinoa is cooked fluff it with a fork then add it to the onion and spinach mixture. Mix together well and add salt and pepper to taste, as well as the Parmesan cheese. I also add a bit of the inside of the tomato that you scooped out, chopped, seeds removed. It adds a bit of moisture to the mixture.
Step 6
Preheat the oven to 350ºF.
Step 7
Stuff the tomatoes with the quinoa and spinach filling. Top each tomato with shredded mozzarella cheese if desired. Bake for 20 to 30 minutes, until the tomatoes are cooked and the filling is hot.
Serves 4 to 6.
This recipe is a fabulous vegetarian side dish or main course. If you want it to be vegan, simply leave out the cheeses.
Stuffed baked tomatoes work really well as a diabetic recipe. Diabetics need to be concerned about carbs, which means all grains. Quinoa has a fair bit of protein in it, so it's a great grain for diabetics. Of course all of the other ingredients in the recipe are quite healthy so it's a recipe that works well for many diets, except extremely low carb.
How to Cook Quinoa Perfectly

Follow the directions on your package for how to cook quinoa. Here are the basics that I always follow for perfect quinoa:

Rinsing the quinoa before using it was always important because quinoa has a naturally occurring coating on it that is a bit bitter and rinsing removes that. Many quinoas that you buy not don't require rinsing, but it's a quick step so I still do it anyway. Check the bag for cooking instructions if you bought a bag of quinoa.

Place the rinsed quinoa in a pot and add 2 cups of water (or broth). Bring it to a boil, then lower the heat to low and leave it on the heat for 15 to 20 minutes, or until all of the water has been absorbed into the quinoa. Then just fluff it with a fork and it's ready to use.

Don't like quinoa? Feel free to replace it with an equal amount of cooked rice, either white or brown. It will be just as delicious.

If you like this stuffed tomato recipe and want more quinoa recipes, have a look at our Mexican flavored quinoa here.

If you like this recipe, I'd love it if you would Pin it to Pinterest, Tweet about it, and Like it on Facebook. Share your own favorite recipes below. Thanks.

Subscribe to the site here and never miss a great recipe.



---