Sweet Potatoes
2013-05-21
Average Member Rating
(3.1 / 5)
53 people rated this recipe
Servings :

4

Prep Time :

5m

Cook Time :

25m

Ready In :

30m
Nutritional Info
This information is per serving.
Calories

157

Calories from Fat

2

Total Fat

0.3g

Trans Fat

0.0g

Cholesterol

0mg

Sodium

159mg

Total Carbohydrates

37.3g

Dietary Fiber

4.8g

Sugars

5.3g

Protein

2.0g

Vitamin A

4%

Vitamin C

59%

Calcium

3%

Iron

4%
Our stove top sweet potatoes recipe is an delicious easy vegetable side dish.
The orange juice and brown sugar add to the wonderful sweetness of this vegetable. Cinnamon and allspice round it out.
Sweet Potatoes with Orange and Spice
Ingredients
1 pound sweet potatoes, peeled
1/2 teaspoon orange peel, finely shredded
1/2 cup orange juice
1 tablespoon brown sugar
1/4 teaspoon salt
1/4 teaspoon ground cinnamon
1/8 teaspoon ground allspice
Method
Step 1
Cut the potatoes into large slices then cut the slices in half. Bring 1 inch of water to boiling in a large skillet. Add sweet potatoes and reduce heat. Cover and simmer for 20 minutes or until potatoes are tender. Drain well.
Step 2
Meanwhile, for the sauce, in a small bowl combine orange peel, orange juice, molasses or brown sugar, salt, cinnamon and allspice. Pour over the cooked potatoes in the skillet. Bring to a gentle boil and simmer, uncovered, for 5 minutes or until potatoes are glazed, spooning sauce over the potatoes occasionally.
Variation:
Substitute molasses for the brown sugar for an even deeper, richer flavor.
The combination of ingredients in this recipe makes for a side dish that even vegetable phobes may love.
This is a wonderful vegetable side dish recipe for holiday dinners when sweet potatoes seem a natural on the menu.
If you like this recipe, I'd love you to Pin it to Pinterest, Tweet about it, Like it on Facebook and leave a comment below.
Subscribe to the site here and never miss a great recipe.
Find the rest of our sweet potatoes and other vegetable recipes here.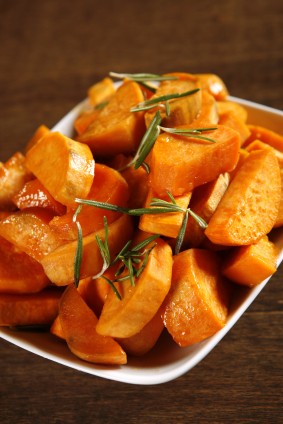 ---