Tomatoes Florentine – it may sound exotic, but what it actually means is simply tomatoes with spinach. What a wonderful combination that is.
Spinach and tomatoes are a match made in cooking heaven. Almost any time you combine these two ingredients, you can almost guarantee you are on your way to a tasty meal.
What are Tomatoes Florentine?
So what does "Florentine" mean? Well technically Florentine means in the manner of the city of Florence, or the way a dish has been prepared traditionally in Florence Italy. In Florence they use quite a bit of spinach in many ways. Over time the word Florentine has come to mean pretty much anything that has spinach in it.
These stuffed tomatoes are filled with a wonderful combination of onion, garlic and spinach, with some Parmesan cheese and bread crumbs to hold it all together and add a bit of crunch.
You do need to scoop out some of the inside flesh of the tomatoes before you stuff them. It's not a difficult job at all. Just follow the instructions I have for you below.
Scooping Out the Tomatoes for Spinach Stuffed Tomatoes
Scooping out the tomatoes to prepare them for stuffing isn't as tricky as you might think. Here's how I do it:
First, slice each tomato across the top. I slice it right at the point where the tomato starts to widen out.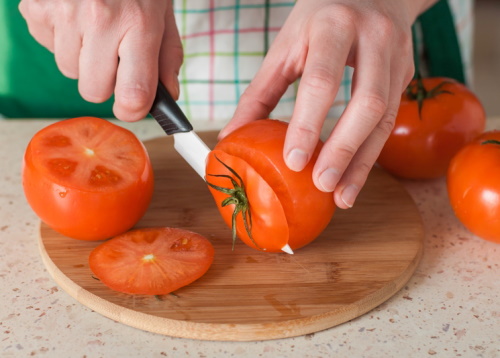 Then, with a small sharp knife, gently go around the inside of the tomato flesh and cut the middle away from the wall of the tomato. Take your knife and make cuts across the flesh of the tomato, making sure you don't cut into the outside wall. Score the flesh going in the opposite direction as well, so you have a grid formation.
Now it's time to scoop out the flesh. Here is how to do that:
Once you have the grid cut in the top of the tomato, and the sides separated from the inside of the tomato, make cuts into the tomato flesh that are at an angle. Make sure you don't cut the outside wall of the tomato. Then, with a small spoon, gently scoop out the inside flesh of the tomato. Remove the flesh just half way down the tomato, so you end up with a tomato whose bottom half is whole and whose top half has been scooped out.
The image above doesn't show the cleanest job of scooping out, but you can see that it doesn't have to be perfect.
They'll look like this when you are done: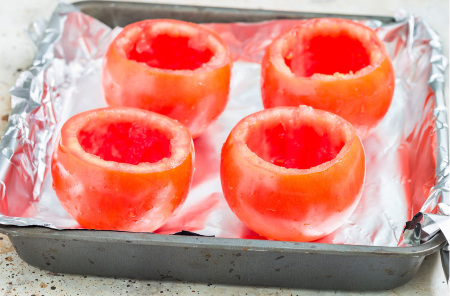 Don't worry if they aren't perfect. They will still taste fantastic.
Set aside the tomatoes and make the stuffing with the spinach, garlic and onion. The original recipe I tried called for milk to be added to the stuffing, but what I do is chop up the tomato flesh that you have just removed from the tomatoes and add that to the spinach and garlic mixture. It tastes terrific and you aren't wasting anything.
The topping for these delicious tomatoes Florentine is really easy to put together. You simply mix together, in a separate bowl, some dry bread crumbs (not bread crumbs made from fresh bread but the dried variety that you buy), chopped fresh parsley and some wonderful grated Parmesan cheese.
Parmesan cheese adds amazing flavor to just about anything and it's a flavor that goes really well with both tomatoes and spinach.
For the bread crumbs you can either use regular dry bread crumbs or Panko style bread crumbs. The Panko crumbs would be fantastic in this recipe because they are coarser than regular dry bread crumbs and will form a beautiful and crunchy crust over the tomatoes.
I have also used bread crumbs that have Italian herbs and spices added to them. It's a quick and easy way to add flavor to the stuffed tomatoes topping.
Stuff the tomatoes with the spinach mixture, then add the topping, an equal amount on each tomato.
That's it. Then just pop them into a hot oven for a short bake. About 20 minutes should do it. You just need enough time for all of the wonderful flavors you have added to mix together and create deliciousness.
You can serve these spinach stuffed tomatoes Florentine with so many things. They are great with an Italian themed meal, but are equally delicious served with baked or roasted chicken or beef.
And of course, as a tasty vegetarian side dish recipe, they are perfect as the main part of a vegetarian meal.
I hope you enjoy these wonderful tomatoes. Let me know what you think in the comments and feel free to share the changes you made to the recipe.
Tomatoes Florentine
This easy recipe stuffs sweet, ripe tomatoes with a mix of spinach and garlic and tops them with Parmesan cheese. They are really wonderful.


Ingredients
6

tomatoes

2

teaspoons

olive oil

1

onion

,

small, finely chopped

1

clove

garlic

,

minced

12

ounces

frozen spinach

,

chopped, thawed & drained

pulp that you have removed from the tomatoes

,

chopped

salt & pepper to taste
For the Topping:
2

tablespoons

dry bread crumbs

,

plain or Italian style

2

tablespoons

fresh parsley

,

chopped

2

teaspoons

Parmesan cheese

,

grated
Instructions
Preheat the oven to 400ºF.

Cut a slice from the top of each tomato. Carefully scoop out the tomato pulp to about halfway down the tomato. See the instructions above to do this.

In a skillet, add the olive oil, then stir in the chopped onion, tomato pulp and garlic. Cook over medium heat until they are all tender, then stir in the spinach and the salt and pepper to taste. Heat the mixture together, then spoon it equally into the tomatoes.

Arrange the tomatoes in an oven proof baking dish.
For the Topping:
Combine the bread crumbs, chopped parsley and Parmesan cheese to make the topping. Sprinkle the mixture over top of the tomatoes as in the image.

Bake the tomatoes in a preheated 400ºF oven for 20 minutes or until the topping is browned a bit and the tomatoes are heated through.
Nutrition
Calories:
74
kcal
Carbohydrates:
12
g
Protein:
4
g
Fat:
2
g
Saturated Fat:
1
g
Polyunsaturated Fat:
1
g
Monounsaturated Fat:
1
g
Cholesterol:
1
mg
Sodium:
80
mg
Potassium:
531
mg
Fiber:
4
g
Sugar:
5
g
Vitamin A:
7790
IU
Vitamin C:
23
mg
Calcium:
103
mg
Iron:
2
mg
These tomatoes Florentine are not the only recipe for stuffed tomatoes on the site. Click here for our quinoa stuffed tomatoes recipe.
Get more spinach recipes here.

Subscribe to the site here (it's Free!) and never miss a great recipe.
If you like this page, please take a moment to share it on your favorite social media. You can add your comments below. Thanks a lot.