Turkey Gravy Recipe
2013-12-08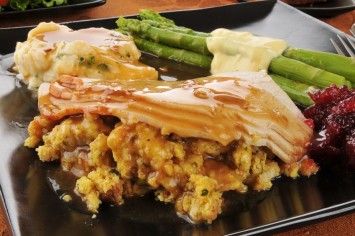 Average Member Rating
(3.9 / 5)
9 people rated this recipe
Prep Time :

5m

Cook Time :

3:000 h

Ready In :

3:05 h
What's the perfect gravy recipe?
Well many people would take sides in that discussion based on however their family has always made it. Below is a fabulous, more gourmet turkey gravy. It's a never fail recipe and can be made even when you aren't baking a turkey because you simply start with chicken or turkey stock.
The gravy recipe I grew up with wasn't so fancy. I have added my own family's "recipe" in the notes below.
Either way, you will end up with perfectly delicious gravy, ready to top you next turkey dinner.
Turkey Gravy Recipe
Ingredients
4 1/2 cups chicken or turkey stock
turkey or chicken neck and giblets
1 1/2 cups white wine or water
1 onion, chopped
1/2 cup carrots, sliced
1/2 cup celery, sliced
roast turkey drippings
1/4 cup flour
salt and pepper to taste
Method
Step 1
While the turkey is in the oven, put the turkey parts (neck and giblets) into a large saucepan. Add the stock, wine, onion, carrot and celery. Bring it all to a boil.
Step 2
Reduce the heat to low and skim off any fat. Simmer for 3 hours. Strain the mixture into a large measuring cup, adding wine, if needed, to make 3 cups. Set aside.
Step 3
To make the turkey gravy take 3 cups of the stock you just made above.
Step 4
Put the roasting pan on the stove element. Skim off the excess fat in the roasting pan. Cook the remaining juices for 1 minute. Whisk in 2 1/2 cups of the stock, leaving out 1/2 cup, and bring to a boil, stirring to scrape up the brown bits from the pan.
Step 5
Mix the 1/2 cup of the reserved stock with the flour until there are no lumps in the mixture. Add the flour mixture into the pan and immediately stir well with a whisk to make sure you have no lumps. Reduce the heat and simmer for 5 minutes, stirring often. Whisk in butter, salt and pepper to taste. Strain if desired or if it is lumpy.
Serve immediately.
Tips and Variations:
To avoid lumps, make sure you begin stirring the gravy IMMEDIATELY after adding the flour mixture. Using a whisk rather than a spoon really helps, as the whisk breaks up lumps. If all else fails and you have some lumps, simply strain the gravy before you serve it.
This recipe for making turkey gravy from favored stock is absolutely delicious. But many people simply add the water from boiling potatoes (when making mashed potatoes) to the pan drippings (add the same amount called for in the stock recipe). That's the gravy I grew up with and I think it results in delicious gravy too. So take your pick – make old fashioned gravy using potato water, or kick it up a notch with wine and chicken stock.
This turkey gravy recipe is just the right thing to top off a roast turkey with all the trimmings. Find our recipe here.
Sign up here and be the first to get new recipes and tips.
Adding us to your favorite social media sites would be very appreciated too.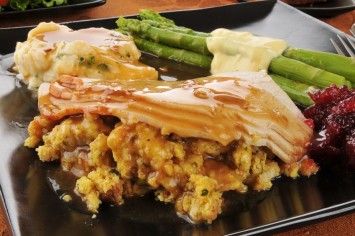 ---