On Friday nights I always opt for quick and easy dinners. Often it's easy stuffed baked potatoes. I'm often tired by Friday, sometimes a bit frazzled, and it seems that no matter what my mood, I don't want to fuss much in the kitchen.
Over the years I have developed a few standby's that have become by favorite Friday night dinners and I thought I would share a few with you. Not that they are stellar gourmet dishes like those that some bloggers may develop. I am usually too pooped to even think of being that energetic and creative. But some of my quick and easy dinners turn out pretty good I must say.
Here is what I did this Friday –
Bacon, Egg and Cheese Stuffed Baked Potatoes

I love baked potatoes. Who doesn't, really? So why not turn a yummy baked potato into a flavor packed easy supper recipe? Saturday is usually grocery day for me so I sometimes don't have a wide variety of ingredients left in my refrigerator by Friday. My solution is to come up with ideas that will use up what I have.
I always have potatoes on hand, as well as cheese and eggs. So they often become Friday night staples in one way or another.
A while ago I decided that I was really in the mood for a baked potato but on it's own it's not much of a well rounded dinner. So I added a few other tasty ingredients and created a loaded baked potato that, with a side salad, is a full meal.
For each serving of these stuffed potatoes you will need:
1 large baking potato
1 egg
1 slice bacon (or 2 if you are a real bacon lover)
1/4 cup shredded cheese (cheddar, Monterey Jack, smoked Gouda, Jarlsburg, or your favorite)
1 green onion, chopped (optional)
salt and pepper to your taste
Baked a large baking potato – actually I "baked" it in the microwave. I don't usually cook in a microwave and "baking" potatoes is one of the few things I use a microwave for. It isn't quite as yummy as an oven baked potato, but hey, it's Friday night and the whole idea is quick and easy dinners.
Preheat your oven to 350ºF.
While your potato is baking, fry the bacon until it is fairly crisp and drain it well.
Once your baked potato is baked, place it on a cutting board with the flatter side down so it will sit flat on your plate. Slice the top of the potato off with a sharp knife. With a spoon, scoop out the flesh of the potato, leaving a thick shell on the outside like in the image. Leave the scooped out potato aside and use it for something else. (Or add a bit of butter, salt and pepper and just eat it!)




Add half of the grated cheese to the bottom of the hollowed out baked potato. Break up the cooked bacon into small pieces and place half of them on the cheese.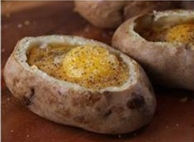 Crack an egg into the potato on top of the bacon and cheese. Season the egg with salt and pepper to your taste and add a touch of hot sauce if you want it spicy.
Top the potato with the other half of the crumbled bacon and a few bits of chopped green onion. Place it on a baking sheet and pop it in the preheated oven. You just need to bake the potato long enough to bake the egg, which will probably take 15 to 20 minutes.


During the time the potato is baking, make a small side salad with your favorite salad dressing.
That's it. Here is the finished product:

Want to be the first to know about new recipes and articles on Cookingnook.com? Sign up here for site updates and never miss a great recipe.
I hope you love stuffed baked potatoes as much as I do. If you do you might want to look here for more variations on stuffed baked potatoes.