Aioli is a garlic sauce, a traditional Italian sauce, very similar to homemade mayonnaise.
It is mayonnaise with a difference!
This garlicky mayonnaise type sauce is wonderful served over fish, meat or potatoes.
It also makes a great dip for vegetables and other crudites.
This garlic sauce recipe is easiest to make in a food processor, but don't fret if you don't have one. The easy to follow instructions above show you now to make a perfect sauce by hand. It's just a bit more tedious that way, but yummy just the same.
Make This Garlic Sauce Healthier
This luscious sauce may not be something wwe want to include in our diets every day, but everything in moderation, right? To make this recipe healthier, use the best cold pressed, extra virgin olive oil (EVOO) you can. Olive oil is extremely healthy for us.
This aioli recipe really isn't bad for us, even with all the oil. You really use very little per serving. The fresh parsley is another ingredient that really packs a positive nutritional punch, so don't leave it out.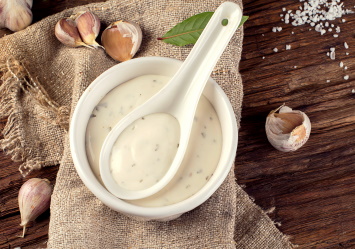 Aioli Recipe
This savory and delicious aioli recipe is wonderful on meats and fish. It's an easy, Italian style garlic sauce recipe.



Ingredients
4

cloves

garlic

2

egg yolks

1/8

teaspoon

salt

1

slice

French bread

,

dry, without crust, soaked in milk, wrung out and broken into pieces (optional)

1

cup

olive oil

1/2

teaspoon

cold water

1

teaspoon

lemon juice

Finely chopped parsley

,

optional
Instructions
Skin, then chop finely the garlic cloves. Beat in the egg yolks, salt and bread. Add the oil slowly while beating constantly. As the sauce thickens, beat in the water and lemon juice.
Nutrition
Calories:
292
kcal
Carbohydrates:
5
g
Protein:
2
g
Fat:
30
g
Saturated Fat:
4
g
Cholesterol:
49
mg
Sodium:
81
mg
Potassium:
22
mg
Fiber:
1
g
Sugar:
1
g
Vitamin A:
65
IU
Vitamin C:
1
mg
Calcium:
12
mg
Iron:
1
mg
Note: This aioli sauce is very easy to make using a food processor. No beating required.
Serving Suggestion:
Serve over fish, cold boiled potatoes, beet rounds, steak or boiled beef. It is also good served with bread sticks or other dippers as a dipping sauce.



You have probably seen this sauce made by celebrity chefs on TV cooking shows. You may be surprised that it is exceptionally easy to make at home.

Subscribe to the site here and never miss a great recipe.
If you like this Aioli recipe, browse all of our sauce recipes here.
If you like this recipe, please take a moment to share it on your favorite social media. You can add your comments below. Thanks a lot.