Apricot Bars or Pie
2013-04-18
Average Member Rating
(4.9 / 5)
8 people rated this recipe
Yield :

1 pie or 16 squares

Servings :

16

Prep Time :

1:30 h

Cook Time :

30m

Ready In :

2:000 h
Nutritional Info
This information is per serving.
Calories

127

Calories from Fat

55

Total Fat

6.1g

Saturated Fat

1.0g

Cholesterol

0mg

Sodium

107mg

Total Carbohydrates

16.6g

Dietary Fiber

0.9g

Sugars

7.0g

Protein

1.7g

Vitamin A

9%

Vitamin C

2%

Calcium

1%

Iron

4%
These lovely apricot bars are easy to make and quite delicious.
They do take a bit of time but are not difficult at all.
The dried apricots just need to simmer slowly until they form a soft paste for the filling.
Ingredients
1 cup dried apricots
1 cup water
2 tablespoons sugar
1 teaspoon lemon juice
1 cup flour
1/2 teaspoon baking soda
1/2 cup brown sugar
1 cup rolled oats (not instant)
1/2 cup butter or margarine, melted
1/2 teaspoon vanilla
Method
Step 1
Combine apricots, water, sugar and lemon juice in a saucepan and bring to a boil. Reduce the heat and simmer covered for 25-30 minutes, until apricots are soft. Remove the cover and continue cooking until the water evaporates and the apricots form a paste, about 1 hour. Keep an eye on the mixture, stirring occasionally and add a little more water if necessary so that the apricots do not burn.
Step 2
Preheat oven to 350°F.
Step 3
Combine all dough ingredients and mix until crumbly. Press 2/3 of the dough into a lightly oiled 8 inch square (or round for a pie) baking pan. Spread with the apricot paste. Sprinkle with the remaining dough and press lightly.
Step 4
Bake for 30 minutes.
Did You Know?…
Just simmer the dried apricots on the stove for a bit while you go off to do other things and in no time they will make the most delectable filling.
The dough is sweetened slightly with rich brown sugar and has the goodness of oats.
It is good to know that even a sweet treat like this has some great nutritional value.
Sign up here and be the first to get new recipes and tips.
If you like this recipe, I'd love you to Pin it to Pinterest below. You can also Tweet about it, Like us on Facebook and leave a comment below and your own recipe at the bottom of the page. Thanks.
If you like these apricot bars, try a delicious apricot pie recipe. Find the full recipe here.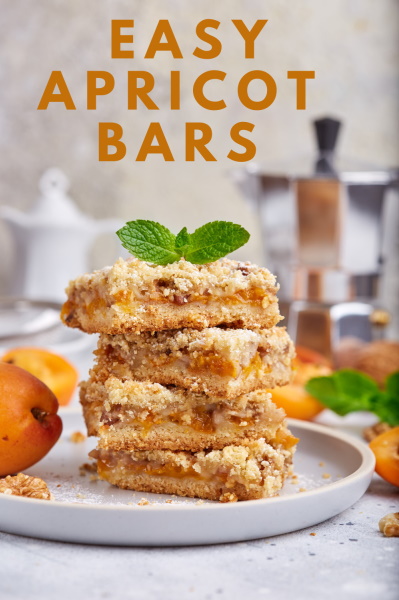 ---