Asparagus Recipe with Orange Butter Sauce
2013-04-18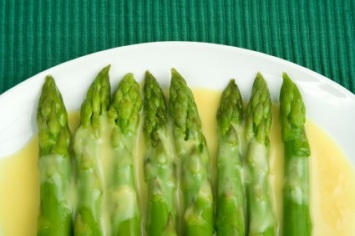 Average Member Rating
(4.8 / 5)
5 people rated this recipe
Servings :

6

Prep Time :

5m

Cook Time :

8m

Ready In :

13m
Nutritional Info
This information is per serving.
Calories

90

Calories from Fat

70

Total Fat

7.8g

Saturated Fat

4.9g

Cholesterol

20mg

Sodium

56mg

Total Carbohydrates

4.5g

Dietary Fiber

2.0g

Sugars

2.3g

Protein

2.0g

Vitamin A

18%

Vitamin C

18%

Calcium

3%

Iron

10%
This asparagus recipe with delicious orange butter sauce is such an elegant dish that you will be surprised at how absolutely easy it is to make.
Just 4 simple ingredients turn the always wonderful asparagus into a gourmet delight.
For those looking for easy vegetable or vegetarian recipes, look no further. This one is a "keeper".

Ingredients
1/3 cup butter
2 tablespoons grated orange rind
1/4 cup orange juice
1 1/2 pounds fresh asparagus
peeled orange slices
Method
Step 1
Combine the butter, orange rind and juice in a saucepan. Bring to a boil. Reduce the heat and simmer until the mixture is reduced by half and slightly thickened, stirring occasionally. Set the sauce aside and keep it warm.
Step 2
Snap off the tough ends of the asparagus. Cook the asparagus, covered, in a small amount of boiling water for 6-8 minutes or until tender but still a touch crisp. Drain it well.
Step 3
Arrange the asparagus on a serving plate. Pour the orange sauce over the asparagus. Garnish with orange slices if desired.
Tip:
If the stalks are very thick you can remove the outer layer by peeling them with a knife or vegetable peeler.
Make It Healthier:
This recipe is so good already, that the only way to make it healthier is to use less sauce on your asparagus. And be sure not to butter the asparagus before you add the sauce. Double the butter isn't the healthiest and the ingredients in this recipe are so good, a little sauce goes a long way. You can even halve the recipe, or refrigerate the leftover sauce and use it the next day.
That said, this recipe only uses 1/3 cup of butter for 6 servings. That's not too bad at all.
I believe in the nutritional value of pure butter over margarine. Margarine has lots of added water and contains more chemicals than real butter. So if I have a choice, I always choose and recommend real butter.
You can serve this to guests with pride as part of your fanciest dinner party, or as a quick side dish any night of the week.
This is a wonderful recipe for diabetics. (It's great for the rest of us too. I am particularly interested in diabetes health, so you will see lots of references to that on the site.) It is fairly low carb, asparagus is very healthy and so is the citrus.
Asparagus recipes like this suit most diet programs too. Although not super low fat because of the butter, it is a low sodium recipe, a perfect diabetic recipe and a great low carb treat.
If you like this recipe, I'd love you to Pin it to Pinterest, Tweet about it, Like it on Facebook and leave a comment below. Thanks.
Sign up here and be the first to get new recipes and tips.
An asparagus recipe is also wonderful with hollandaise sauce. Find our recipe here.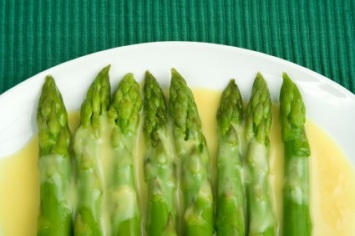 ---