Easiest Ever Beef Stew Recipe
2013-04-22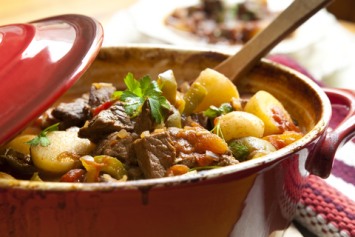 Average Member Rating
(3.9 / 5)
30 people rated this recipe
Yield :

2 pounds

Servings :

6

Prep Time :

10m

Cook Time :

5:000 h

Ready In :

5:10 h
Nutritional Info
This information is per serving.
Calories

566

Calories from Fat

119

Total Fat

13.2g

Saturated Fat

4.5g

Trans Fat

0.0g

Cholesterol

135mg

Sodium

739mg

Total Carbohydrates

56.8g

Dietary Fiber

9.7g

Sugars

12.7g

Protein

54.5g

Vitamin A

148%

Vitamin C

114%

Calcium

9%

Iron

48%
I call this the easiest ever beef stew recipe because it is exactly that – just plain easy.
It may sound like the oddest recipe, but it is absolutely delicious.
Don't be tempted to brown the beef or add water. It will look quite dry before cooking, but makes perfect gravy, all by itself!
I have made this recipe, literally over 100 times. It comes out perfectly each time and people not only love it, they ask for it again and again. This one is an easy dinner recipe keeper for sure.
Ingredients
2 pounds stewing beef, well trimmed
1 pound potatoes, peeled and cut into medium chunks
1 large onion, chopped
4 carrots, peeled and chopped
1 can tomato soup, undiluted
1 can cream of mushroom soup, undiluted (or cream of anything you want really. I have tried many cream soups and they work quite well)
8 bay leaves
2 cups mushrooms, sliced (optional)
1 1/2 cups frozen peas (optional)
Method
Step 1
Preheat the oven to 250°.
Step 2
Add the raw beef and and all of the vegetables (except the mushrooms and peas) to a large stew pot. Add the undiluted soups and mix everything together well. Place the bay leaves on top of the mixture. The mixture will look quite dry at this point.
Step 3
Bake the stew with lid on for 5 hours. If you are using mushrooms and peas, add them at the beginning of the last hour.
Step 4
This amazing beef stew really does make its own just perfect gravy with no work on your part.
Important!
Remember to take out the bay leaves before serving, as dried bay leaves are not edible.
Beef stew is one of those old time comfort foods that never really gets stale. We all love it and it is the perfect easy dinner recipe for cooler days.
I have made this recipe many many times over the years and everyone loves it. It is one of those delicious Campbell soup recipes that is timeless.
If you like this recipe, I'd love you to Pin it to Pinterest, Tweet about it, Like it on Facebook and leave a comment below. Thanks.
Sign up here and be the first to get new recipes and tips.
Want more comfort food recipes like this easy beef stew recipe? You'll find them in our collection of meat recipes.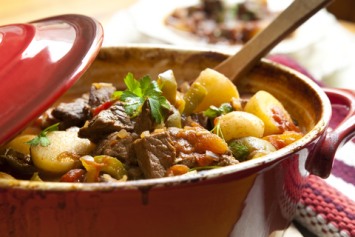 Recipe Comments
---