Bok Choy Recipes:
Broccoli and Bok Choy Stir-Fry
2013-04-23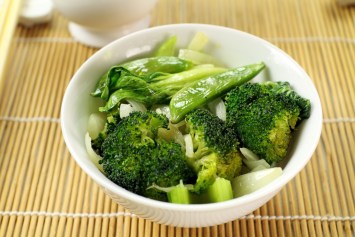 Average Member Rating
(4.9 / 5)
7 people rated this recipe
Servings :

4

Prep Time :

10m

Cook Time :

8m

Ready In :

18m
Nutritional Info
This information is per serving.
Calories

105

Calories from Fat

44

Total Fat

4.9g

Saturated Fat

0.7g

Cholesterol

0mg

Sodium

457mg

Total Carbohydrates

11.7g

Dietary Fiber

3.7g

Sugars

5.2g

Protein

5.0g

Vitamin A

55%

Vitamin C

148%

Calcium

14%

Iron

13%
This is one of the nicest broccoli and bok choy recipes.
It is a vegetable stir fry that combines bok choy and broccoli with seasonings that you often find in Chinese recipes – things like green onions, rice wine vinegar, garlic and ginger.
It is topped with sesame seeds which give it a nice crunch as well as packing a wallop of flavor.
Broccoli and Bok Choy Stir-Fry

Ingredients
1/2 cup seasoned rice wine vinegar
2 tablespoons less-sodium soy sauce
1 teaspoon no-salt seasoning blend
2 tablespoons chopped green onions
1 tablespoon peeled, minced ginger root
1 garlic clove, minced
2 teaspoons sesame oil
2 1/2 cups broccoli, cut into florets
2 1/2 cups bok choy, chopped
1 cup snow peas or sugar snap peas
2 tablespoons sesame seeds, toasted (optional)
Method
Step 1
In a small bowl, stir together the vinegar, soy sauce, seasoning blend, green onions, ginger root and garlic. Set the mixture aside.
Step 2
In a large skillet, heat the oil over medium heat. Add the broccoli and stir-fry for 4 minutes. Add the vinegar mixture and bok choy. Stir-fry for 3-5 minutes or until the vegetables are crisp-tender.
Step 3
Sprinkle the stir fry with sesame seeds and serve.
Tip:
Make sure you use gluten-free soy sauce to ensure the recipe is gluten free if you or someone you are serving this to is wheat intolerant.
The sesame seeds are listed as an optional ingredient but add them in if you can. They add fabulous flavor to this veggie stir fry.
The recipe calls for low sodium soy sauce, but use regular if that is what you have on hand and prefer.
You will find that the taste the sesame oil adds is wonderful. Try to get toasted sesame oil if you can. The flavor is even better.
Don't assume that more sesame oil must be better though. It is a strongly flavored oil and a little goes a long way. Just use what the recipe calls for and add an extra drop or two (no more) if you want more of that sesame oil taste.
You can also replace the no-salt seasoning blend with regular salt and pepper to taste. If you use the no-salt seasoning, select one that is either very basic or that has Asian flavors.
I love a broccoli stir fry, which this is, but with a difference. The bok choy adds nice flavor and added nutrition. The snow peas add a nice crunch.
It's total green veggie stir fry. If you want color you can certainly add a bit of chopped red pepper, but I like the flavor combination as it is.
This is a very healthy vegetable recipe, so there is not much to do to make it even healthier. I would not suggest leaving out the sesame oil to cut fat. There is hardly any in this recipe and it adds SO much flavor.
This is a gluten free recipe, perfect for those who are intolerant to wheat or have a wheat allergy IF you make sure that the soy sauce used is a gluten free one. Not all are.
It is also a wonderful diabetic recipe. Pair it with a chicken stir fry, or grilled fish, chicken or beef for a great low carb meal.
If you like this recipe, I'd love it if you would Pin it to Pinterest, Tweet about it, and Like it on Facebook. Share your own favorite recipes below. Thanks.
Subscribe to the site here and never miss a great recipe.
Broccoli and bok choy recipes like this are great served with something like oven steamed salmon with ginger. Find the recipe here.
All of our Asian themed recipes can be found here.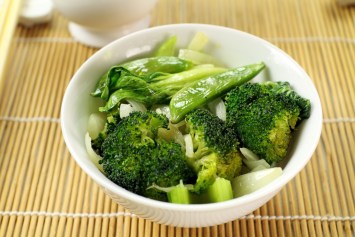 ---