Cheesy Beef Burritos Recipe
2013-04-24
Average Member Rating
(4.6 / 5)
10 people rated this recipe
Servings :

10

Prep Time :

30m

Cook Time :

20m

Ready In :

50m
Nutritional Info
This information is per serving.
Calories

254

Calories from Fat

96

Total Fat

10.7g

Saturated Fat

5.6g

Cholesterol

63mg

Sodium

235mg

Total Carbohydrates

19.2g

Dietary Fiber

2.8g

Sugars

5.7g

Protein

20.6g

Vitamin A

22%

Vitamin C

37%

Calcium

16%

Iron

14%
This is a delicious recipe for beef and cheese burritos.
I love Mexican food and this burrito recipe is so tasty, I want to make it every time I see it.
It calls for two cheeses, cream cheese and grated cheddar or Monteray Jack cheese.
Cheesy Beef Burritos
Ingredients
1 pound ground chuck
1/2 cup chopped onion
3 ounces Neufchâtel or cream cheese, softened
4 ounces of cheddar cheese or Monteray Jack cheese, grated
1 sweet green or red pepper, chopped
1/4 teaspoon salt
1/2 teaspoon dried whole oregano
1/2 teaspoon ground cumin
1/4 teaspoon garlic powder
10 6-inch flour tortillas
vegetable cooking spray
5 cups shredded lettuce
plain low fat yogurt
sliced fresh green chilies (optional)
16 ounces canned whole tomatoes
4 ounces canned diced green chillies, drained
1 teaspoon cornstarch
1 teaspoon sugar (optional)
1 teaspoon ground coriander
Method
Step 1
Combine the ground chuck, chopped pepper and onions in a large skillet. Cook until the beef is browned. As the meat cooks add the salt, oregano, cumin and garlic powder. Add the cream cheese and stir until combined. Drain off the pan drippings.
Step 2
Fill each tortilla with 1/4 cup of beef mixture. Sprinkle each burrito with a bit of grated cheddar cheese. Roll up and place seam side down in a 12"x7"x2" baking dish coated with cooking spray. Cover and bake at 350°F for 20 minutes.
Step 3
While the recipe is baking, combine the tomatoes, diced chilies, cornstarch, sugar and coriander in the container of a blender. Process until smooth. Pour the tomato mixture into a saucepan and bring to a boil. Reduce the heat. Simmer for 2 minutes, stirring occasionally.
Step 4
Place each rolled tortilla on 1/2 cup of lettuce. Top with the tomato sauce and a dollop of yogurt. Garnish with fresh chillies, if desired.
Tips and Variations:
I like to pour some of the tomato sauce over the tortillas before you bake them. That way the tortilla shells don't dry out in the oven. Covering them as the recipe states does help, but I think they still dry out a little.
I also add a bit of grated cheddar cheese to the top before baking.
If you don't want the two types of cheese you can replace the cream cheese with the cheddar.
Did You Know?…
The list of ingredients may look a bit long but it is really a simple recipe to put together.
The spices and herbs listed, combined with the tomatoes and chilies makes an exceptionally tasty sauce.
You can also add extra grated cheese to the top just before baking if you want really decadent cheesy burritos.
Yes, this recipe has cream cheese and cheddar cheese in it, but other than that it is quite healthy. I would switch out the tortillas for whole wheat tortillas for extra nutritional value.
You can also replace the ground beef with ground chicken or turkey for a leaner burrito.
This is a great easy dinner recipe. Simply add a large salad and dinner is complete.
If you like this recipe, I'd love it if you would Pin it to Pinterest, Tweet about it, and Like it on Facebook. Share your own favorite recipes below. Thanks.
Subscribe to the site here and never miss a great recipe.
This recipe for beef burritos is just one of our delicious Mexican recipes. Find them here.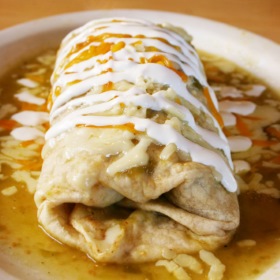 ---