There is nothing quite like warm dinner rolls, fresh out of the oven.
The fantastic smell they create in the kitchen is matched by the taste of the soft warm freshly baked bread rolls. It's always a little bit of heaven in my kitchen whenever bread in pretty much any form is baking.
They are a real treat, either served with dinner, a bowl of warming soup, or just buttered and enjoyed.
This is a fairly easy recipe for these yeasty treats. If you haven't baked with yeast before, this is a good recipe to begin with.
These rolls are called pan rolls because the dough is rolled into small balls that are placed close to each other in a pan to finish rising and bake.
Although these yeast rolls are traditionally baked in a round pan, a square pan works just as well.
You will notice that these rolls call for both warm water and warm milk. You can use all water if you want, but the milk will help to make the dinner rolls beautifully soft.
Bread Making Tips
In my (somewhat limited I admit) experience with baking breads and rolls I have a couple of hints to offer:

Do pay attention to the temperature of the water. If it's too hot it will kill the yeast. If it's too cold the yeast won't bloom or grow. The best temperature is listed below. 120°F to 130°F is just a bit warmer than lukewarm. If the water starts to feel hot, it's gone past that perfect temperature. Of course if you want to be really accurate you can use a thermometer check the temperature.

Add just enough flour to make the dough come together, then stop. The dough needs to be easy to work with, but excess flour will make the rolls tough and heavy. (Believe me, I know. It's my habit to add just a bit more flour and I have ended up with heavy bread because of it. So I advise you to take your time and just follow the directions and the feel of the dough.) Lightly flour the work surface as the directions indicate and add more flour in small amounts if you need to prevent the dough from continuing to stick to the counter top or whatever surface you are using to knead the bread.
Dinner Roll Size
The recipe calls for each of the 9″ round pans to contain 12 rolls. You can make the rolls smaller or larger. Most people get 8 or 9 rolls in a 9″ pan. (See the image below of the sesame topped rolls in the pan.)
Ideas for Variations on Dinner Rolls
Dinner rolls or pan rolls are wonderful as they are, but there is also a lot you can do to change them up to suit your taste and the occasion. Here are a few suggestions:
Cheese Rolls
Add 1 cup of grated strong cheddar or other similar cheese to the ingredients before you mix the dough. Follow the rest of the directions as they appear below.
Add chopped jalapenos to make them spicy if you prefer some heat. Make sure the jalapenos are nice and dry before you add them so you don't add wet to the dough.
Fruit and Nut Rolls
If you want to sweeten up the rolls, you can add chopped dried fruit and nuts.
Dried chopped apricots, dates or raisins work well. Add about 1 cup of dried fruit and 1/2 cup of chopped walnuts or pecans to the dough as it is being mixed. You can also add 1 tablespoon to the dry ingredients if you want.
It's a nice treat without being too sweet.
Garlic and Herb Yeast Rolls
This herb and garlic mixture is added to the top of the rolls just before they are popped into the oven to bake. Feel free to adjust the herbs to suit your taste and what you have on hand. I have used dill here but chopped fresh parsley, chives or garlic chives would also work nicely.
Melt 3 tablespoons of butter. Add 2 cloves of finely chopped garlic. Add in 1 to 2 tablespoons of chopped fresh dill. Brush 1/2 the mixture on the top of the pan rolls just before you bake them. Once out of the oven, brush on the remaining flavored butter.
Here's how they will look when you are finished baking:
Sesame Seed Rolls
Melt a couple of tablespoons of butter and brush it on the dinner rolls just before they are placed in the oven to bake. Sprinkle sesame seeds on the rolls and bake as directed. Here is how they'll look when they are fresh out of the oven.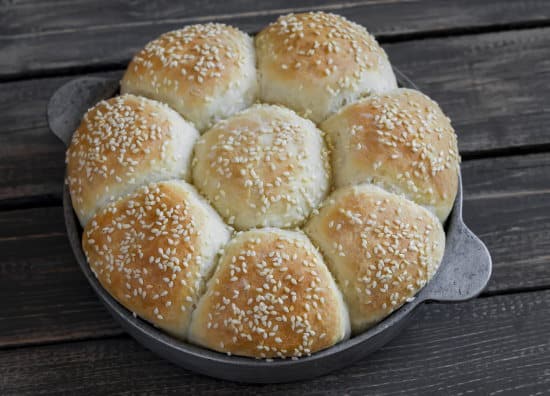 Pan Dinner Rolls
Homemade dinner rolls are easy with this recipe for pan rolls. You'll find that yeast rolls aren't that difficult to make. They'll be on your menu often after you try them.
Equipment
2 round 9" baking pans

or square
Ingredients
3 1/2

cups

all-purpose flour

,

to 3 3/4 cups

1/4

cup

sugar

1/4

cup

shortening

1

teaspoon

salt

1

package

yeast

,

regular or quick active dry

1/2

cup

water

,

very warm, (120°F to 130°F)

1/2

cup

milk

,

very warm, (120°F to 130°F)

1

egg

,

large

Butter

,

melted
Instructions
Mix 2 cup of the flour, the sugar, shortening, salt and yeast in a medium bowl. Add the warm water, warm milk and egg. Beat with an electric mixer on low speed for 1 minute, scraping the bowl frequently. Beat on medium speed for 1 minute. Stir in just enough of the remaining flour to make the dough easy to handle.

Turn the dough onto a lightly floured surface. Knead for 5 minutes or until the dough is smooth and elastic. (See the link below for how to knead dough.) Place the dough in a greased bowl and turn it greased side up.

Cover and let rise in a warm place for about 1 hour or until the dough is double in size. The dough is ready if an indentation remains when the dough is touched.

Grease the bottom and sides of 2 round pans, 9" x 1 1/2" each, with shortening. Punch down the dough. Cut the dough in half. Cut each half into 8 to 12 pieces. Shape into balls. Place close together in the pans. Brush with the melted butter. Cover and let rise in a warm place about 30 minutes or until double.

While the dough is rising, heat the oven to 400°F.

Bake the rolls in the fully heated oven for 12-18 minutes or until they are golden brown.
Nutrition
Calories:
105
kcal
Carbohydrates:
17
g
Protein:
3
g
Fat:
3
g
Saturated Fat:
1
g
Polyunsaturated Fat:
1
g
Monounsaturated Fat:
1
g
Trans Fat:
0.3
g
Cholesterol:
7
mg
Sodium:
104
mg
Potassium:
34
mg
Fiber:
1
g
Sugar:
3
g
Vitamin A:
19
IU
Vitamin C:
0.001
mg
Calcium:
11
mg
Iron:
1
mg
Here is another idea for great dinner rolls to check out. Our sweet potato rolls.
Browse through all of our bread recipes here.

Subscribe to the site here (it's Free!) and never miss a great recipe.
If you like this recipe, please take a moment to share it on your favorite social media. You can add your comments below. Thanks a lot.