Easy Pancake Recipe
2013-05-04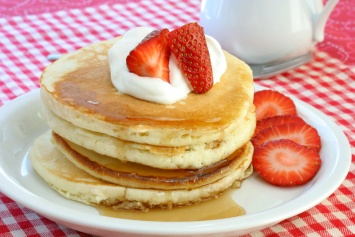 Average Member Rating
(3.7 / 5)
431 people rated this recipe
Yield :

6 to 8 pancakes

Servings :

2 to 4

Prep Time :

5m

Cook Time :

5m

Ready In :

10m
Nutritional Info
This information is per serving.
Calories

266

Calories from Fat

91

Total Fat

10.1g

Saturated Fat

2.4g

Trans Fat

0.0g

Cholesterol

48mg

Sodium

494mg

Total Carbohydrates

35.3g

Dietary Fiber

1.1g

Sugars

4.8g

Protein

8.4g

Vitamin A

5%

Vitamin C

0%

Calcium

23%

Iron

12%
This easy pancake recipe proves that you can make homemade pancakes that taste just as good as the boxed or pancake house variety, easily at home.
Actually I think they are much, much better.
Homemade pancakes are such an easy treat that I often make them for lunch or dinner.
Easy Pancake Recipe
Ingredients
1 1/4 to 1 1/2 cups flour
2 teaspoons baking powder
2 tablespoons sugar (optional)
3/4 teaspoon salt
1 1/2 cups milk
1 egg
2 - 3 tablespoons oil
Method
Step 1
Mix the dry ingredients together, then add the milk, oil and eggs. Mix well and try to get some of the lumps out of the batter. Don't worry about making it perfectly smooth. It will be fine.
Step 2
Heat a skillet on medium heat. When heated, scoop the pancake batter recipe into the frying pan with a large spoon to make individual pancakes. The pan will probably only take 1 or two pancakes at a time, depending how large you make them. Cook on one side until the top begins to bubble, then flip the pancake over and cook on the other side.
Step 3
The number of pancakes it makes depends on how large you make them, but the recipe serves 2 to 4 people.
Tips and Variations:
Omit the sugar for a sugar free pancake recipe. It will obviously be less sweet but it still tastes great. You can also replace the sugar with your favorite sugar alternative. I use coconut sugar which has a much lower glycemic index than regular sugar.
Once the pancake batter is in the pan, dot the surface of the pancake with blueberries, raspberries or thin slices of banana. Everyone will love it and it is a great way to get more fruit in your diet.
A tasty tip, especially for diabetics. Add 1/2 to 1 teaspoon of cinnamon to our easy pancake recipe. It adds wonderful taste and the bonus for diabetics is that cinnamon helps control blood sugar a bit.
You can omit the oil, but it adds a nice richness to the batter. If you leave it out you will probably need a bit of oil in your pan when you fry them.
I add sliced fruit on top to make me feel that I am being a bit healthier, but the truth is it's the light fluffy pancakes with that terrific syrup that really hits the spot.
And if you can get real maple syrup – well, that's just heaven on a plate!
If you like this recipe, I'd love you to Pin it to Pinterest, Tweet about it, Like it on Facebook and leave a comment and your own favorite recipes below.
Sign up here and be the first to get new recipes and tips.
You will find another easy pancake recipe here, this one combining healthy oat bran and blueberries.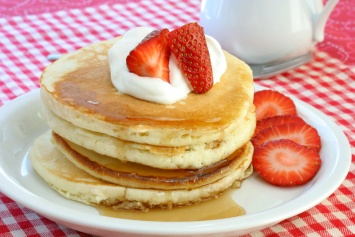 Recipe Comments
---