Zucchini, Peppers and Eggplant Parmigiana
2013-10-21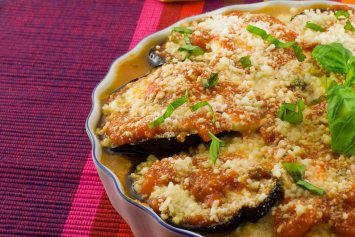 Average Member Rating
(4.4 / 5)
11 people rated this recipe
Servings :

6 to 8

Prep Time :

20m

Cook Time :

20m

Ready In :

40m
Nutritional Info
This information is per serving.
Calories

96

Total Fat

4.5g

Saturated Fat

1.0g

Cholesterol

3mg

Sodium

508mg

Total Carbohydrates

12.5g

Dietary Fiber

4.4g

Protein

3.6g

Vitamin A

8%

Vitamin C

51%

Calcium

5%

Iron

9%
This is a bit of a different take on an eggplant parmigiana recipe. It adds zucchini, onions and peppers for great taste and even more nutritional value.
This is such an easy dinner recipe. It can be used as a vegetarian main course or as a side dish with pasta, meatballs or even grilled chicken.
Zucchini and Eggplant Parmigiana
Ingredients
1 eggplant
2 zucchini
1 green or red pepper
2 large onions
2 tablespoons oil
2 cups tomato sauce
1/2 teaspoon salt
1/8 teaspoon pepper
1/4 teaspoon oregano
2 - 3 tablespoons grated parmesan cheese
8 ounces of mozzarella cheese, grated, to top (optional)
Method
Step 1
Cut off the ends of the eggplant and zucchini. Peel the eggplant if you want or leave it as is. Slice these vegetables across. Cut the green pepper into small squares. Peel and slice the onions.
Step 2
Preheat the oven to 350°F.
Step 3
Heat the oil in a large skillet. Add the eggplant, zucchini, green pepper and onions and cook until barely tender. Layer the vegetables, then the tomato sauce into a greased baking dish, sprinkling the layers with salt, pepper and oregano. Finish with the sauce and sprinkle with parmesan cheese. Add the mozzarella cheese if you are using it. Bake at 350°F for 20 - 30 minutes, until heated through.
This recipe can be served as a vegetarian main course or as a side course with meat. I love it as a main course with a large salad and some fresh crusty Italian bread.
Makes 6 – 8 servings as a side dish, or 3 to 4 as a main course.
Add more Parmesan cheese to the top before serving, or pass the cheese for people to add as much or as little as they want.
Notes and Variations:
This recipe can easily be multiplied to serve as many as you would like.
I would make this recipe in two layers. That way all of the vegetables get coated with that wonderful sauce.
Just before you bake the eggplant and zucchini parmesan, you can add 8 ounces of grated mozzarella cheese to the top of the casserole. Of course nothing beats melted cheese on top of absolutely anything. It does add some fat though, so keep that in mind.
You can see from the nutritional information above how healthy this recipe is. Lots of nutritional value with few calories or carbs. Obviously if you add the mozzarella cheese, that will up the calories and fat content. But it will make it super yummy.
This is a fantastic recipe if you need to be on a somewhat restricted diet. It suits diabetic recipes, gluten free recipes and the later stages of low carb diets (not the early Atkins stage).
If you like this eggplant parmigiana, browse here for more delicious Italian recipes.
You will find a great selection of vegetarian recipes here.
If you like this recipe, please use the buttons below to share it on social media. Thanks.
Subscribe to the site here and never miss a great recipe.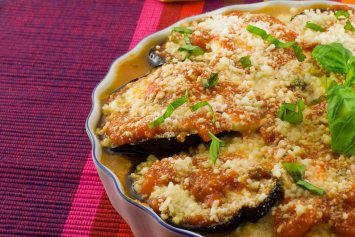 ---