Eggs Benedict
2013-05-05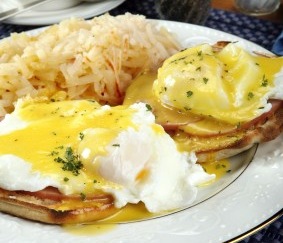 Average Member Rating
(4.9 / 5)
7 people rated this recipe
Yield :

4 eggs benedict

Servings :

2

Prep Time :

5m

Cook Time :

20m

Ready In :

25m
Nutritional Info
This information is per serving.
Calories

377

Calories from Fat

137

Total Fat

15.2g

Saturated Fat

4.9g

Trans Fat

0.0g

Cholesterol

399mg

Sodium

1450mg

Total Carbohydrates

29.6g

Dietary Fiber

2.0g

Sugars

2.8g

Protein

29.9g

Vitamin A

10%

Vitamin C

2%

Calcium

16%

Iron

25%
Eggs Benedict is possibly my favorite breakfast or brunch recipe.
The mix of poached eggs, toasted English muffin and ham is wonderful together. With the addition of Hollandaise sauce, it's all pulled together in one glorious taste sensation.
Glorious Eggs Benedict
Ingredients
4 slices cooked ham, Canadian bacon or peameal bacon
2 English muffins
4 poached eggs
Method
Step 1
Brown ham slices or Canadian or peameal bacon in skillet over medium heat. Split English muffins in half. Toast and butter lightly.
Step 2
To poach the eggs, bring a saucepan of water to a boil. Turn the heat to low, gently add the eggs one by one, ensuring the yolks do not break. Let water gently heat the eggs to desired doneness. Gently lift each egg out of the water with a slotted spoon and place on an English muffin half.
Step 3
Arrange ham on top of muffins. Top each with a poached egg.
Step 4
Cover it all with hollandaise sauce.
Step 5
Serve immediately.
Step 6
Makes 2 breakfast, brunch or luncheon servings.
Tips:
Peameal bacon is a Canadian phenomenon. It is an uncured bacon that has been rolled in corn meal. Slice it into 1/8″ slices, fry as bacon and use in place of the ham. It is quite delicious.
Eggs benedict may seem like a difficult or gourmet breakfast recipe, but it is really quite simple. Just add a few quick ingredients to poached eggs and you are ready to go.
Of course you can get a package of powdered hollandaise sauce mix, and it is tasty, but if you want the real thing, look at our recipe for hollandaise sauce. It is not too difficult or time consuming to make it yourself.
Find our all of our breakfast recipes here.
If you like this recipe, I'd love it if you would Pin it to Pinterest, Tweet about it, and Like it on Facebook. Share your own favorite recipes below. Thanks.
Subscribe to the site here and never miss a great recipe.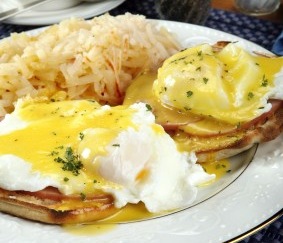 Recipe Comments
---