How to Make Gnocchi
2013-05-07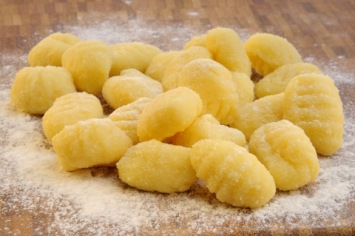 Average Member Rating
(4.6 / 5)
8 people rated this recipe
Yield :

1 pound

Servings :

4 to 6

Prep Time :

30m

Cook Time :

6m

Ready In :

36m
Add to Recipe Box
Gnocchi is something I remember my mother making when I was young. It is still my absolute favorite pasta recipe.
Learn how to make it perfectly every time right here.
See lots of tips below.
Ingredients
3 medium Yukon Gold potatoes, unpeeled
3/4 cup (175 mL) unbleached all-purpose flour
1 large egg
1 tablespoon (15 mL) grated Parmigiano-Reggiano cheese
1/4 teaspoon (1 mL) salt
1/4 teaspoon (1 mL) freshly ground white pepper
Flour for dusting
Method
Step 1
Place potatoes in a large pot. Add water to cover and bring to a boil over medium heat. Reduce heat and simmer until potatoes are easily pierced with a fork. Drain and let cool to room temperature. Then place in a self-sealing plastic bag and refrigerate overnight.
Step 2
The next day, using a paring knife, scrape off and discard skins and any eyes or blemishes. Put potatoes through ricer. Measure out 12 ounces (375 g), or 2 slightly rounded cups (510 mL).
Step 3
Using stand mixer fitted with beaters or the paddle attachment, place potatoes in mixer bowl. Mix on slowest speed for 1 minute, to a relatively smooth consistency. Gradually add flour, egg, Parmigiano-Reggiano and salt and pepper. Remove beaters or paddle and attach dough hook. On speed 2, knead, scraping sides of bowl as necessary, until dough is firm and pliable, about 3 minutes.
Step 4
Divide dough into 4 equal pieces. Dust a clean work surface lightly with flour. With lightly floured hands, shape each piece of dough by rolling into a long rope the thickness of an index finger. Using a sharp knife or bench scraper, cut dough into pieces about 1/2 inch (1 cm) long. Dust lightly with flour or roll them lightly in flour on your work surface.
Step 5
If you prefer indentations in your gnocchi, which help the sauce to cling, place a fork, tines pointing down, on work surface and press each gnocchi against the tines. You can also press them against the smallest holes of a cheese grater. Transfer to a plate dusted with flour. The pasta is now ready for use in your favorite recipe.
Step 6
Like their pasta relatives, gnocchi should be cooked in a large pot (at least 8 quarts/8 L) in about 6 quarts (6 L) of well salted (about 1 tbsp/15 mL) rapidly boiling water. Use a flat bench scraper to scoop up gnocchi and drop into the boiling water.
Step 7
Gnocchi are cooked to the al dente stage (about 6 minutes) and drained. Because they are tender, drain with care. Lift from water with a spider or large, shallow perforated scoop and transfer to a colander. If pouring directly into a colander, pour slowly and gently. Reserving some of the cooking water allows you to adjust sauces to the proper consistency, very much as you would use reserved pasta cooking water.
Step 8
After the gnocchi are cooked you can serve them immediately with your choice of sauce. If you prefer to use them later, place on a lightly greased baking sheet and let cool to room temperature. Once they are cooled, cover with plastic wrap and refrigerate for several hours or overnight. When you're ready to serve them, add cooked gnocchi to warm sauce and, using a nonstick spatula, toss gently to coat evenly.
Step 9
If you prefer, you can place the pans of pasta in the freezer. Once frozen, transfer it all to a resealable plastic bag lightly sprayed with vegetable oil on the inside. Gnocchi will keep, frozen, for up to 1 month. Before using, defrost in the refrigerator overnight or at room temperature.

This recipe makes about 1 lb (500 g) or 4 to 6 servings.
Tips:
First of all you don't need a stand mixer to make this recipe. Italian home cooks have known how to make gnocchi for generations and they mix everything with a spoon or God's mixing utensils, your own hands. So don't let the lack of a mixer prevent you from enjoying this wonderful pasta.
To measure flour, place in a large bowl and fluff with a large spoon. Then scoop into a flat-topped measuring cup and level with a straight-edged ruler or spatula.
Once gnocchi are made, you must cook them immediately. After they are cooked you can put them away for future use.
If you are using a food mill to process the potatoes, use the coarsest blade.
Did You Know?…
This is pretty close to my mother's recipe. They were a bit of work to make so a real treat when you saw them on the dinner table. Light fluffy little pasta clouds.
Any floury or mealy potatoes, such as all-purpose white or russet potatoes, will work in this recipe, but don't use waxy potatoes. The author prefers Yukon Gold potatoes for their rich color and flavor.
Although some say the potatoes should be cooked the day before make the gnocchi and refrigerated overnight and that is probably the best thing to do, my mother and grandmother used to do it all in one day. Just make sure the potatoes are totally cooled and very dry before you begin making the pasta.
If you like this recipe, I'd love it if you would Pin it to Pinterest, Tweet about it, and Like it on Facebook. Share your own favorite recipes below. Thanks.
Subscribe to the site here and never miss a great recipe.
If you love gnocchi have a look at the rest of our collection of delicious Italian recipes.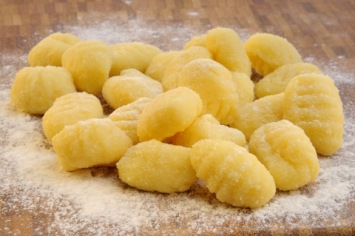 ---