Grilled Vegetables with Ginger and Sesame
2020-06-15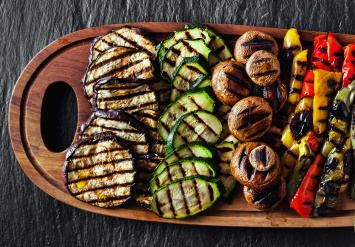 Average Member Rating
(3.7 / 5)
3 people rated this recipe
Servings :

6 to 8

Prep Time :

2:000 h

Cook Time :

8m

Ready In :

2:08 h
Nutritional Info
This information is per serving.
Calories

151

Total Fat

9.8g

Cholesterol

0mg

Sodium

854mg

Total Carbohydrate

13.9g

Dietary Fiber

4.7g

Protein

4.3g

Vitamin D

136mcg

Calcium

29mg

Iron

2mg

Potassium

622mg
I love grilled vegetables. Grilling adds such wonderful depth of flavor to vegetables.
This is a simple marinade, but it brings wonderful Asian flavors to the vegetables.
Marinating vegetables is so easy and a flavorful marinade like this one really ramps up the taste.
The vegetables I have chosen for this recipe lend themselves really well to grilling. Grilling gives them great flavor, but they can also stand up to being on the grill without dissolving into mush. Feel free to add or delete the vegetables of your choice.
It's easy to make this marinade. Once the marinade is ready, just pour the vegetables into it and let them sit for 2 hours or up to 24 hours before you grill them.
This is one of my favorite summer vegetable recipes for times when you are having guests, because it's a make ahead recipe. You can do most of the work ahead of time and just pop them on the grill when you are ready to eat.
I hope you enjoy them.
Grilled Vegetables with Ginger and Sesame

Ingredients
2 large red or yellow bell peppers
2 medium zucchini
1 eggplant
8 ounces mushrooms, left whole
2/3 cup white wine vinegar (150 ml)
1/3 cup soy sauce (75 ml)
2 tablespoons minced ginger (30 ml)
2 tablespoons olive oil (30 ml)
2 tablespoons dark sesame oil (30 ml)
2 large cloves garlic, minced
2 teaspoons hot sauce (10 ml) (optional)
Method
Step 1
Take the seeds out of the red peppers, then cut each pepper into quarters or large wedges. Slice the zucchini and eggplant crosswise into round slices.
Step 2
Mix together the white wine vinegar, soy sauce, ginger, olive oil, sesame oil, garlic and hot sauce in a non metallic baking dish to create the marinade. Place the vegetable pieces into the mixture and stir to mix everything together well. Cover the bowl and place it into the refrigerator.
Step 3
Refrigerate the vegetables and allow them to marinate for at least 2 hours before cooking them, turning them occasionally to make sure they are well coated by the marinade. You can refrigerate the vegetables for up to 24 hours before you grill them.
Step 4
When you are ready to cook the vegetables, take them out of the marinade and place them on a grilling rack on your barbecue. Grill the vegetables for about 8 minutes, turning them once and brushing with the marinade occasionally.
Serves 6 to 8
Cooking time depends on the heat of your barbecue so check for doneness occasionally. Grilled vegetables are great but burnt are not.
Indoor Grilling
You can prepare these grilled vegetables in many ways. Of course you can use your outdoor barbecue as I outlined in the directions above, but if the weather or other circumstances mean the outdoors is not an option, you can still enjoy these delicious vegetables. If you have an indoor grill, now would be the time to get it out. Just preheat the grill and cook the vegetables as you would on the barbecue.
Oven Broiling
Grilling these vegetables in the oven is another great option. Just preheat your oven broiler, then place the vegetables on a grill pan or baking sheet and pop them into the preheated oven broiler. Place the pan 5 to 6 inches below the broiler heating element. Cook the vegetables for 4 minutes, turning them once and brushing with marinade once or twice.

Sesame oil is a favorite ingredient of mine in Asian flavored recipes. It adds so much flavor with just a little bit of oil. The dark sesame oil is more flavorful and has a deeper, richer taste than the lighter version. My absolute favorite if you can get it, is toasted sesame oil. The flavor seems smoother to me somehow and really adds a wonderful taste to anything you put it on or in.

Want to be the first to know about new recipes and articles on Cookingnook.com? Sign up here for site updates and never miss a great recipe.

If you think this Asian flavored grilled vegetables recipe sounds delicious, try our Mediterranean style grilled vegetables too.

Browse all of our yummy vegetable recipes here.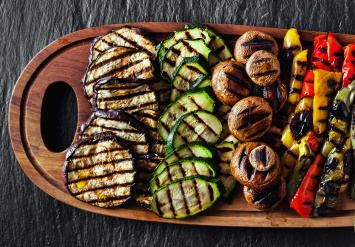 If you like this recipe, please take a moment to Pin it to Pinterest, Tweet about it, Like it on Facebook and leave a comment below. Thanks a lot.

---