Healthy Waffle Recipe: Whole Grain Waffles
2014-12-24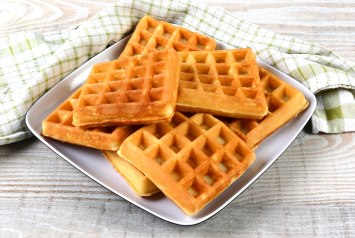 Average Member Rating
(4.9 / 5)
8 people rated this recipe
Yield :

5 waffles

Servings :

5

Prep Time :

5m

Cook Time :

15m

Ready In :

20m
Waffles are SO good, but I really was looking for a healthy waffle recipe, so I could indulge a little more often. A friend gave me this fantastic recipe.
It uses whole wheat flour instead of white flour which ups the fiber content of the recipe a lot. Or you can easily replace part of all of the wheat flour with rye, buckwheat, soy, cornmeal, bran or wheat germ.
So go ahead and eat waffles. Just try a few variations of the recipe below and see what homemade waffle recipe is your favorite.
A Healthy Waffle Recipe
Ingredients
2-4 eggs, separated
1 1/2 cups milk, almond milk or soy milk
1/4 cup melted butter
1-2 tablespoons brown sugar, heated honey (heated) or maple syrup (optional)
2 teaspoons baking powder
1/2 teaspoon salt
2 cups flour - whole wheat or any combination of whole wheat, rye, buckwheat, soy or triticale flour, cornmeal, bran or wheat germ
Method
Step 1
Preheat the waffle iron to medium-hot (375°F). Grease it or not as per your waffle maker instructions.
Step 2
Beat the egg whites until stiff and set them aside.
Step 3
In a large bowl, beat the yolks with milk. Add the remaining ingredients, beating after each addition. Fold in the beaten egg whites. Pour into a lightly greased pre-heated waffle iron and bake for a few minutes, until it stops steaming.
Makes about 5 round or rectangular waffles.
Note: If you are in a hurry, you can use whole beaten eggs instead of whipping the egg whites, but the waffles won't be as light.
Tips:
I add 1/2 teaspoon of cinnamon to the batter for even more flavor and nutrition.
If you are lucky enough to have leftover waffles, freeze them and heat them in the toaster for a snack or quick breakfast.
Of course you are free to replace the almond milk or soy milk with real milk.
A mix of whole wheat flour and rye flour is good. I also like 1/2 whole wheat flour and 1/2 bran or wheat germ. 3/4 whole wheat flour and 1/4 cornmeal is nice too. It results in a waffle that is a bit crunchy. It's perfect drizzled with a little maple syrup. All are healthy alternatives to white flour waffles and make a great healthy waffle recipe.
Using all soy flour makes this a gluten free waffle recipe.
Instead of the brown sugar, honey or syrup, I put Stevia in my waffle batter. Sorry but I can't even tell you how much to use because some stevia brands "water down" the stevia with fillers to make it measure more like sugar. If you are using a brand like that, use the measurement shown in the recipe. If you are using a purer stevia, you won't need anywhere near as much. Start with 1/2 teaspoon, test a bit of the batter by making a coin sized waffle and see if you want more sweetness.
If you like our healthy waffle recipe, but want a plain waffle, look here.
If you like this recipe, please take a moment to share it on your favorite social media. Thanks a lot.
Sign up here for site updates and never miss a great recipe.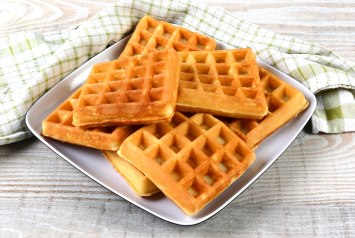 ---