Korean Pancakes
2016-02-12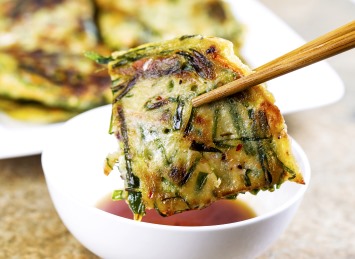 Average Member Rating
(4.5 / 5)
11 people rated this recipe
Yield :

12 pancakes

Prep Time :

10m

Cook Time :

15m

Ready In :

25m
Nutritional Info
This information is per serving.
Calories

103

Total Fat

7.3g

Saturated Fat

1.5g

Cholesterol

55mg

Sodium

178mg

Potassium

207mg

Total Carbohydrates

7.0g

Dietary Fiber

1.0g

Protein

3.2g

Vitamin A

22%

Vitamin C

19%

Calcium

2%

Iron

5%
I love these Korean pancakes made with grated zucchini. They come with a great dipping sauce made of soy sauce, rice vinegar, garlic, onion and a touch of sesame oil for that distinctive Asian flavor.
Korean cuisine includes hundreds of savory pancakes with all kinds of vegetables, legumes, seafood and meat.
They are served as an appetizer or a snack or with rice as part of a meal.
Korean Pancakes with Zucchini

Ingredients
1 1/2 pounds zucchini, shredded
4 eggs
1 tablespoon sesame oil
1/2 cup all-purpose flour
3/4 teaspoon salt
1 carrot, shredded (optional)
5 green onions, julienned
1/4 cup vegetable oil
4 red or green hot peppers, thinly sliced (optional)
Method
Step 1
In a potato ricer or colander, squeeze out as much liquid from the zucchini as possible. In a large bowl, whisk eggs with sesame oil, flour and salt until smooth. Mix in zucchini, carrot and onions.
Step 2
In a large skillet, heat oil over medium-high heat and add about 1/3 cup of the zucchini mixture, pressing into a pancake about 1/3 inch thick. Sprinkle with hot peppers, pressing into the surface. Repeat with remaining pancakes. Fry, in batches, until golden on the bottom, turning once, about six minutes.
Serve with dipping sauce below.
Makes 12 pancakes.
For the Dipping Sauce:

1/4 cup soy sauce
4 tablespoons rice vinegar
1 tablespoon toasted sesame seeds
2 teaspoons sesame oil
2 cloves of garlic, minced in
1 green onion, minced
1/4 teaspoon black pepper

To make the dipping sauce mix together the soy sauce, vinegar, sesame seeds and oil, garlic, onion and pepper. Set the sauce aside while you make the pancakes.

This fantastic recipe for Asian style zucchini pancakes is a great appetizer for any Asian themed dinner.

It is fairly low carb, even with the dipping sauce, so it's great for diabetics. And it's a perfect vegetarian appetizer for those who eat eggs. I really love them and hope you give them a try.

You can omit the carrot if you want and add more zucchini. I love the color and added nutrition that the carrots bring to the pancakes.

If you like these Korean zucchini pancakes, try browsing through our collection of Asian style recipes here.

Our other vegetarian recipes can all be found here.

If you like this recipe, I'd love you to Pin it to Pinterest, Tweet about it or Like it on Facebook. Thanks.

Sign up here for site updates and never miss a great recipe.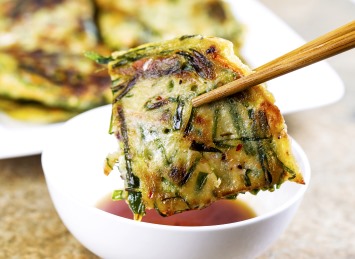 ---