Lasagna Recipes:
Lasagna with Veggie "Noodles"
2013-05-09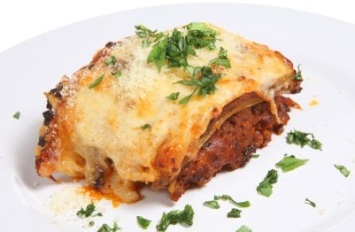 Average Member Rating
(5 / 5)
7 people rated this recipe
Servings :

6

Prep Time :

25m

Cook Time :

40m

Ready In :

1:05 h
This is one of my favorite lasagna recipes. Lasagna is one of those delicious classic Italian recipes and this one comes with a twist.
Simply replace the cooked noodles with slices of zucchini or eggplant! Lots more nutrition, fewer calories and carbohydrates, and great taste.
To make it vegetarian, just leave out the ground beef.
Lasagna with Veggie "Noodles"

Ingredients
1 pound ground beef
1/2 cup dry red wine
1 - 19 ounce can crushed tomatoes
1- 14 ounce can diced tomatoes
2 teaspoons dried oregano
2 teaspoons dried basil
2 cloves garlic, minced
1 small onion, finely chopped (optional)
1 large eggplant, sliced
2 medium zucchini, sliced
2 cups ricotta cheese
1 egg
1/2 cup parmesan cheese, grated
1/2 pound mozzarella cheese, grated (low fat if preferred or leave out for a low fat lasagna)
Method
Step 1
Brown beef in pan on medium high heat. Drain if necessary once it is well browned. Add red wine and reduce until almost gone. Add tomatoes, oregano, basil, garlic and onion. Reduce heat to medium low and simmer sauce.
Step 2
While sauce is simmering, place eggplant and zucchini on a cookie sheet. Lightly sprinkle veggies with salt and let rest 5 to 10 minutes. Place cookie sheets in preheated 350ºF oven for approximately 10 minutes to help release some of the moisture from the veggies.
Step 3
In a small bowl combine ricotta cheese with egg and parmesan cheese. Add a bit of salt if desired.
Step 4
Place a very small amount of meat mixture on the bottom of a 9"x13" pan. Layer approximately six zucchini "noodles" on meat, then half of the remaining meat, then the ricotta cheese mixture. Sprinkle with a little mozzarella cheese. For the next layer use the eggplant "noodles". Pour on the remaining meat mixture, then zucchini and top with the remaining mozzarella cheese. You can sprinkle a little oregano and parmesan cheese on top, if desired.
Step 5
Place in the oven and bake for 30 minutes. Let rest for 10 to 15 minutes before cutting.
Tips and Variations:
Leave out the beef for a great tasting vegetarian lasagna.
If you love either zucchini or eggplant but not the other use all zucchini or all eggplant as the noodle layers.
Low Fat Lasagna: Use low fat cheeses and cut the amount of cheese you use in half. I often use Parmesan cheese in the middle layers and just put a bit of mozzarella on top.
This lasagna recipe is great for someone who wants to cut some of the carbohydrates from a meal like lasagna, cut the calories, or just try something different.
It's also a wonderful way to get more vegetables into a meal.
It's a terrific healthy cooking recipe. To make it healthier, do what I suggest above in the tips. Sprinkle the top of each layer with some grated Parmesan cheese, and save the grated mozzarella for the top layer only. You still have that ooey goodness, but just on top. It saves a lot of calories and fat and makes the whole dish lighter.

This is a wonderful diabetic recipe. For those who love the Italian flavors of lasagna, but have a difficult time with the high carb count of all those noodles, this version that replaces the noodles with zucchini and/or eggplant is perfect. You get all of that traditional lasagne flavor with far fewer carbs. Enjoy.
If you like this recipe, I'd love you to Pin it to Pinterest, Tweet about it, Like it on Facebook and submit your own recipes below.
Lasagna recipes are just some of our amazing Italian Recipes. You will find them all here.
Subscribe to the site here and never miss a great recipe.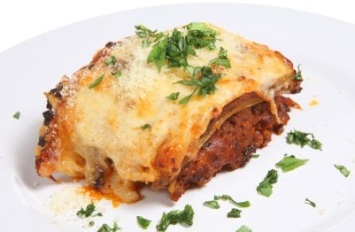 ---