This is a beautiful lemon muffin recipe. These easy muffins are really called lemon "chiffon" muffins because they are very light in texture. As light as chiffon.
There's an easy secret to creating this super light lemon muffin. Instead of adding whole eggs to the batter, separate the whites from the yolks. Add the yolks to the batter. Take the whites and whip them until they form soft peaks. That's a bit softer than when you are whipping the egg whites to make a meringue.
Fold the whipped egg whites gently into the muffin batter and stir gently to incorporate them into the batter.
You'll find the full instructions in the recipe below.
Lemon is such a nice fresh flavor. I love a variety of desserts made with lemon.
These lemon muffins are wonderful as a snack, for breakfast or even for dessert.
If you make these into mini muffins by baking them in mini muffin tins, they are great with tea and coffee or on a dessert table. Add a tablespoon of poppy seeds to make wonderful lemon poppy seed muffins.
They look so beautiful on the plate and are absolutely yummy.
This lemon muffin recipe calls for both lemon juice and lemon zest. Here is how to make lemon zest (or orange zest if you need that):
Zesting a Lemon:
For some bakers zesting a lemon isn't familiar. You will need a grater with a fine grate on it. Hold the whole lemon against the grater and grate off just the yellow part of the lemon peel. Don't grate down into the white pith of the lemon, as that is bitter and won't add a nice taste to your muffins.
You can take this easy muffin recipe and change it to orange muffins really easily. Just replace the lemon juice and lemon zest with an equal amount of orange juice and orange zest.
Muffin Tip
My one one big tip for making muffins remains the same: Don't over mix your batter. When you blend the wet ingredients into the dry (or vice versa), mix it all together just until everything is incorporated together. It's really important not to beat the batter or over mix it. Over mixing your muffin batter will leave you with muffins that are less tender than you want them.
That's it! That's how easy these muffins are.
I hope you like this recipe. I love them. Let me know how they went for you in the comments section below.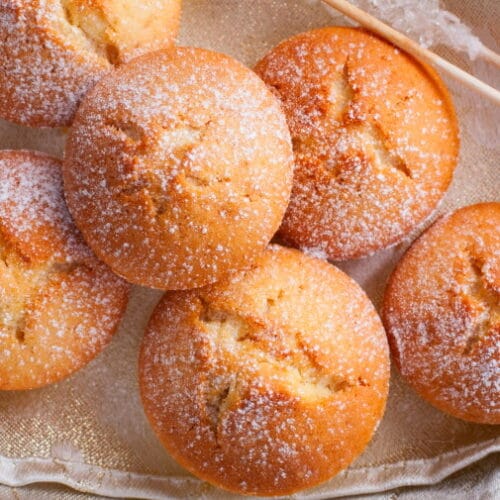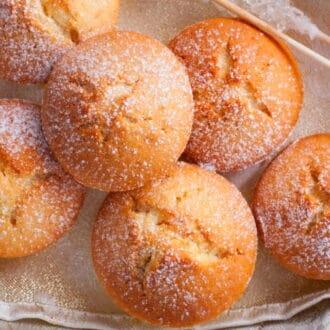 Lemon Muffin Recipe
Lemon muffins made lighter by whipping the egg whites.
This simple step creates muffins that are nice and light, with a great fresh lemon taste.
Equipment
1 muffin tin with 12 muffin cups
Ingredients
½

cup

butter

,

(or margarine), softened

½

cup

sugar

zest of 1 lemon (about 1 tablespoon)

,

grated

2

tablespoons

milk

2

eggs

,

separated

3

tablespoons

lemon juice

,

(about 1 lemon)

1

cup

all-purpose flour

1

teaspoon

baking powder

¼

teaspoon

salt
Instructions
Preheat the oven to 375°F.

Cream the butter, sugar, lemon peel, milk, and egg yolks in a mixing bowl until light and fluffy. Beat in the lemon juice.

Combine the flour, baking powder, and salt in a separate bowl. Add to batter and mix just until blended.

Beat the egg whites until soft peaks form, then fold them into the batter. Stir the batter only until the egg whites are just mixed with the rest of the muffin batter.

Spoon into 12 greased muffin pan cups.

Bake at 375°F 15 to 20 minutes, or until a toothpick or other tester inserted into the muffins comes out clean.
Nutrition
Calories:
159
kcal
Carbohydrates:
18
g
Protein:
2
g
Fat:
9
g
Saturated Fat:
5
g
Polyunsaturated Fat:
1
g
Monounsaturated Fat:
2
g
Trans Fat:
1
g
Cholesterol:
49
mg
Sodium:
161
mg
Potassium:
32
mg
Fiber:
1
g
Sugar:
9
g
Vitamin A:
294
IU
Vitamin C:
1
mg
Calcium:
31
mg
Iron:
1
mg
Makes 12 muffins but recipe can be doubled.
If you like this lemon muffin recipe, try orange and cranberry muffins as well. You'll find the full recipe on the site here.
If you are a lemon lover, try these lemon cupcakes with lemon filling. They are really yummy.
All of my orange and lemon recipes are gathered together here. Have a browse.

Like this recipe? I'd love you to share it on your favorite social media. You can also add a comment below. Thanks so much.