Saucy Meatball Recipe with Beer Sauce
2013-05-12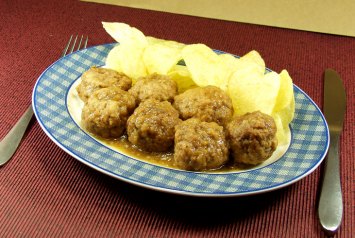 Average Member Rating
(4.9 / 5)
11 people rated this recipe
Servings :

4

Prep Time :

20m

Cook Time :

25m

Ready In :

45m
Nutritional Info
This information is per serving.
Calories

386

Calories from Fat

159

Total Fat

17.6g

Saturated Fat

9.4g

Trans Fat

0.0g

Cholesterol

131mg

Sodium

537mg

Total Carbohydrates

10.0g

Sugars

3.1g

Protein

38.9g

Vitamin A

6%

Vitamin C

2%

Calcium

13%

Iron

23%
Believe it or not, this delicious meatball recipe gets some of its great flavor from beer!
Use a bottle of your favorite beer, along with some cheddar cheese and a few other ingredients and you have meatballs with a savory sauce everyone will love.
Ingredients
2 slices white bread, crumbled
12 ounces canned beer
1 pound ground beef
1/2 cup shredded old cheddar cheese (or swiss cheese)
1/2 teaspoon salt
1 dash pepper
2 tablespoons butter or margarine, melted
1/2 cup chopped onion
1 tablespoon brown sugar
1 tablespoon vinegar
1 teaspoon beef flavoured bouillon granules
1 1/2 teaspoons cornstarch
1 tablespoon water
hot cooked noodles
Method
Step 1
Soak the crumbled bread in a 1/2 cup of beer. Add the ground beef, cheese, salt and pepper, mixing well. Shape into 1 1/2 inch balls.
Step 2
Cook the meat balls in the butter in a large skillet over medium heat until browned. Drain the meat balls on paper towels, pour off the pan drippings, reserving 1 tablespoon in the skillet. Add the onion and sauté until tender, add the meatballs, beer, sugar, vinegar and bouillon. Cover and simmer for 20 minutes.
Step 3
Combine the cornstarch and water, mixing well. Stir the cornstarch mixture into the skillet. Bring to a boil, cook for 1 minute, stirring constantly.
Step 4
Serve over noodles.
Vinegar is a common ingredient in this kind of recipe. Not only does it give the recipe a nice tartness, but it also adds tenderness to the meat.
The brown sugar adds a slightly sweet note.
The recipe is perfect served over cooked noodles but you can certainly serve it with mashed potatoes too.
It is a great easy dinner recipe for any night of the week, it's also perfect for game day or on a holiday or Super Bowl party buffet.
Enjoy.
If you like this recipe, I'd love you to Pin it to Pinterest, Tweet about it, Like it on Facebook and leave a comment and your own recipes below.
Sign up here and be the first to get new recipes and tips.
This unique meatball recipe with beer sauce is just one great way to use ground beef. Have a look at our other ground beef recipes here.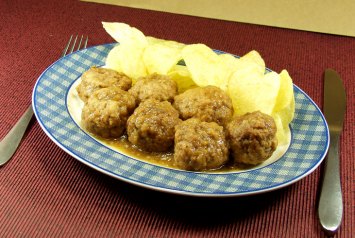 ---