Apple Oatmeal Muffins with Honey
2020-10-20
Average Member Rating
(5 / 5)
1 people rated this recipe
Yield :

12

Servings :

12

Prep Time :

10m

Cook Time :

25m

Ready In :

35m
Nutritional Info
This information is per serving.
Calories

103

Total Fat

1.2g

Cholesterol

14mg

Sodium

64mg

Total Carbohydrate

21g

Dietary Fiber

2.2g

Protein

2.9g

Vitamin D

1mcg

Calcium

57mg

Iron

1mg

Potassium

186mg
These apple oatmeal muffins are healthy and delicious.
They are sweetened with just 1/4 cup of honey, plus some unsweetened applesauce, which makes them a great treat for kids and a nice muffin recipe for those with diabetes.
I also love the use of whole wheat flour. It's nice to know you can have a snack or light breakfast that's full of healthy ingredients, rather than a load of white sugar.
If you are a follower of this site you know that I love great food that is easy to prepare. My personal thought is that all those recipes with loads of steps are fine, but most of us just don't have time for that most of the time.
We still want delicious homemade food but a bit simpler and less time consuming. And that's what I try to deliver with my recipes – yummy deliciousness that doesn't have you standing in the kitchen for hours every day.
So here is our latest – a really yummy muffin recipe that is loaded with healthy ingredients.
Apple Oatmeal Muffins

Ingredients
1 cup whole wheat flour
1 cup rolled oats
2 teaspoons baking powder
1/2 teaspoon baking soda
1/2 teaspoon ground cinnamon
1/8 teaspoon freshly ground nutmeg
2 cups apples, finely chopped
1 egg, beaten with 1/2 cup milk
1 cup unsweetened applesauce
1/4 cup honey
2 tablespoons melted butter
Method
Step 1
Preheat oven to 375°F.
Step 2
Generously butter a 12 cup muffin tin (or spray them well with a non-stick spray).
Step 3
Combine the flour, oats, baking powder, baking soda, cinnamon, and nutmeg in a medium-sized bowl and mix well. Set aside.
Step 4
In a small bowl blend the egg and milk with the applesauce, honey, and butter. Pour this mixture over the dry ingredients and mix with a fork just until moistened. Fill the prepared muffin tins two thirds full.
Step 5
Bake the muffins at 375°F for about 25 minutes, or until a wooden toothpick inserted into the center comes out clean.
Step 6
Loosen the muffins from the pan with a small spatula and remove them to a wire rack to cool.
Makes 12 muffins.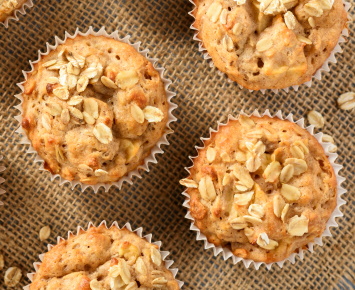 Want to be the first to know about new recipes on Cookingnook.com? Sign up here for site updates and never miss a great recipe or tip again.
Tip:

The recipe mentions that after you add the liquid ingredients to the dry, mix it together just enough that everything is incorporated together. Don't beat the batter. If you do, your muffins will be more dense in texture, not as light and airy as you want them.

That goes for all muffin recipes, not just this one. If you want delicious, tender muffins all the time, just remember not to over mix them.

I love the fact that this recipe uses honey for it's sweetness. Honey has the same calories as sugar, but it has added nutritional value, especially if you use unpasteurized honey. It adds a nice distinctive taste as well.

If you like these apple oatmeal muffins, try our apple cinnamon muffins too.

Browse all of our muffin recipes here.

If you like this recipe, please take a moment to link to it on your favorite social media sites. Thanks a lot. It really helps.



---