This pesto fish is such an easy baked fish recipe!
This is about as simple as home cooking gets. Not a seasoned cook? That's not a problem with this very easy baked fish recipe.
Don't have a lot of time but still want a healthy dinner on the table? This is the recipe for you.
All you need to do is layer a bit of the two ingredient sauce on the pieces of fish, then chop a few bits of tomato. Place the chopped tomatoes on top of the fish and sauce and you are ready to pop it in the oven for a short bake. That's it. In 15 or 20 minutes you will have a delicious and healthy main course.
I love easy dinner recipes like this one. The time it bakes gives you just about enough time to pull together a side salad or make some rice and dinner is ready for the table.
This fish recipe is going to be your new "go to" recipe for days you don't feel like cooking or you're having a busy day. You still get to eat healthy with very little effort needed. We all have days like that and we all need recipes like this one ready to go.
I've given you the original recipe as I received it. It says to start baking the fish from frozen and you certainly can do that. But with thicker fish, like the salmon I've used here, I like to start with thawed (ideally fresh) fish.
With thick fish like salmon, starting out with fresh or thawed fish ensures the fish will be cooked in the times it's in the oven. If a thick fish is frozen hard you can't be guaranteed that it will be cooked through in 15 or 20 minutes, so you will probably have to cook it longer. So suit yourself, but if you are using a thick fish like salmon, my tip is to cook it from thawed.
Cooking Pesto Fish
You can see from the photos that I've lined the baking dish with foil to make cleanup easy, but you don't need to.
I love to add a quick cooking vegetable like asparagus spears to the baking dish before I add the fish. The vegetables cook while the fish bakes. That, for me, is the ultimate in quick cooking. Also, while they cook, the vegetables get basted by the fish juices, sauce and tomatoes above them, which gives them great flavor.
This works well with broccoli or cauliflower as well. Just make sure that the pieces of broccoli or cauliflower are fairly thin. They do take longer to cook than asparagus.
Sometimes it's difficult to find great tasting easy recipes to suit restricted diets, like low carb or diabetic diets. Pesto fish is a great diabetic dinner recipe. It is both low carb and healthy, with ingredients that will fit well into most diabetic or low carb eating styles.
This recipe is gluten free but if you need it to be absolutely gluten free, please check the ingredients on your mayo and pesto. They should be gluten free but it's a good idea to always check.
I hope you enjoy this delicious but easy fish recipe. Try it with different varieties of fish and see what you prefer. I've used salmon here but it's wonderful made with cod, haddock or halibut too.
Here are the Easy Steps in Pictures.
As I said above, I have lined my baking dish with aluminum foil to make cleanup easier, but you don't need to. I have also place asparagus spears below the salmon pieces.:
First, add the pesto/mayonnaise mixture.


Top with the chopped tomatoes, or halved cherry tomatoes.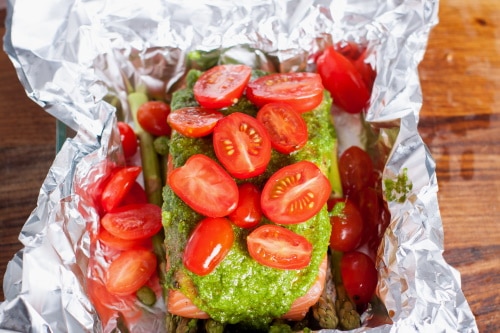 Bake and enjoy!


Easy Baked Pesto Fish
An easy baked fish recipe with pesto sauce and tomatoes.



Ingredients
1

pound

fish fillets,

,

such as salmon, haddock, halibut or cod, frozen (see notes above)

1/4

cup

mayonnaise

,

or Miracle Whip Dressing

2

tablespoons

pesto

1

tomato

,

or several cherry tomatoes, chopped
Instructions
Preheat the oven to 450°F.

Mix together the mayonnaise (or Miracle Whip) and the pesto in a small bowl.

Place frozen fish in 13"x9" baking dish. Spread the combined dressing and pesto over the fish. Sprinkle with the chopped tomatoes.

Bake for 15 minutes or until the fish flakes easily with a fork.
Notes
Add a vegetable like asparagus under your fish and it will cook alongside the fish. Asparagus works perfectly as well as smaller pieces of broccoli.
Nutrition
Calories:
244
kcal
Carbohydrates:
2
g
Protein:
24
g
Fat:
16
g
Saturated Fat:
3
g
Polyunsaturated Fat:
7
g
Monounsaturated Fat:
3
g
Trans Fat:
1
g
Cholesterol:
64
mg
Sodium:
226
mg
Potassium:
418
mg
Fiber:
1
g
Sugar:
1
g
Vitamin A:
419
IU
Vitamin C:
4
mg
Calcium:
28
mg
Iron:
1
mg
Here is another baked fish recipes like this pesto fish. Our baked Mediterranean cod.
Here is another salmon recipe that uses mayonnaise to keep the fish moist.
You can browse all of our fish and seafood recipes here.

Subscribe to the site here (Yes it's free) and be the first to get notified about new recipes and tips.
If you like this recipe, I would really appreciate it if you share it on social media and add a comment below. Thanks.