Pickled Beets
2013-05-15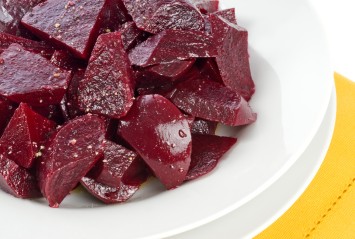 Average Member Rating
(4 / 5)
21 people rated this recipe
Prep Time :

15m

Cook Time :

20m

Ready In :

35m
I just love pickled beets.
Of course you can buy them ready made in the grocery store, but oh the sweet delight of opening a jar that you made in the summer when beets were plentiful and sweet.
Pickled Beets
Ingredients
6 quart basket of small beets
1 1/2 cups cider vinegar
1/2 cup water
1 cup brown sugar
whole cloves
Method
Step 1
Cook the beets in boiling salted water until tender. Drain and plunge the beets into cold water. Rub off the skins.
Step 2
Drop the beets into sterile jars. Make the pickling syrup of vinegar, water and brown sugar. Let the syrup simmer for 5 minutes. Add the syrup to the jars to within 1/2 inch of the top. Place 3 whole cloves in each jar and screw down the tops.
Step 3
Ideally do not use for at least 3 weeks as it gives the flavors a chance to meld.
Note:
You may want to use rubber gloves (prewashed) to take the skin off the beets to prevent your hands from turning bright red.
This recipe for pickling beets is simple.
Other recipes I have seen call for sliced onions or chopped peppers. While you can certainly add these, I am a bit of a purist and prefer just the luscious red jewels on their own.
Both the beets and cider vinegar are very healthy for us, so as side dish condiment recipe, these pickled beets are a fairly healthy choice.
If you like this recipe, I'd love you to Pin it to Pinterest, Tweet about it, Like it on Facebook and leave a comment and your own recipes below.
Subscribe to the site here and never miss a great recipe.
If you like this pickled beets recipe, have a look at our recipe for harvard beets.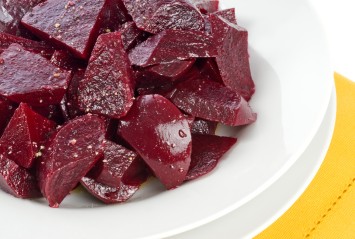 ---