Baked Salmon Patty Recipe or Salmon Loaf
2013-07-14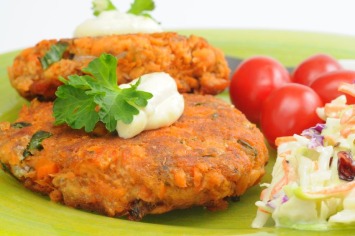 Average Member Rating
(5 / 5)
6 people rated this recipe
Prep Time :

10m

Cook Time :

25m

Ready In :

35m
This salmon patty recipe is baked, not fried, which makes the salmon cakes healthier.
You can make this salmon cake recipe three ways: Baked in a loaf pan as a salmon loaf, baked in a casserole or individual ramekins or you can make salmon patties out of the mixture as in the image above.
The recipe was contributed by member Dianna, from Kitchener Ontario Canada. Thanks Diana. They look yummy.
Salmon Patty Recipe

Ingredients
1 large tin sockeye salmon (418 grams)
2 tablespoons green onion, finely chopped
2 slices fresh bread, processed fairly fine
1 teaspoon Dijon mustard
dash Worcestershire and black pepper to taste
1 teaspoon lemon juice
2 slightly beaten eggs
1 teaspoon dried parsley
2 teaspoons grated parmesan
Method
Step 1
Combine all ingredients in a bowl.
Step 2
You can bake the mixture any of three ways: Place in a small greased casserole, baked covered at 350ºF for 45 minutes. OR Bake in separate ramekins, or as salmon patties. If using ramekins or making patties, reduce the bake time to 25 to 30 minutes.
Step 3
Let sit a few minutes before slicing or serving.
Double the recipe to make a loaf for four, but the recipe serves brunch in individual ramekins just fine.
Lovely with scalloped potatoes and fresh green beans. Serve ramekins with scrambled eggs and toast for brunch.
Salmon burgers on whole wheat buns are great for lunch or an easy dinner recipe.
Save the black bits and bones for the kitty as a special treat!
Find more great recipes like this salmon patty recipe here.
Subscribe to the site here and never miss a great recipe.
Like this recipe? I'd love you to Pin it to Pinterest, Tweet about it, Like it on Facebook and leave a comment and your favorite recipe below.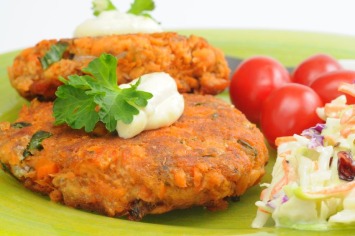 ---