Shepherds Pie Recipe
2013-05-19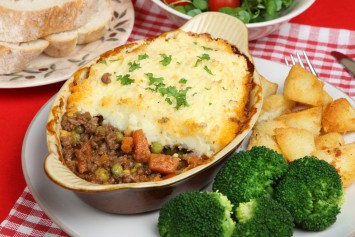 Average Member Rating
(3.5 / 5)
188 people rated this recipe
Servings :

4 to 6

Prep Time :

30m

Cook Time :

30m

Ready In :

60m
Nutritional Info
This information is per serving.
Calories

294

Calories from Fat

101

Total Fat

11.3g

Saturated Fat

5.2g

Trans Fat

0.0g

Cholesterol

111mg

Sodium

467mg

Total Carbohydrates

9.0g

Dietary Fiber

1.8g

Sugars

3.4g

Protein

37.0g

Vitamin A

51%

Vitamin C

0%

Calcium

3%

Iron

25%
This shepherds pie recipe is a classic comfort food recipe that never really goes out of style.
It is a perfect way to use up leftover mashed potatoes.
This is a great easy dinner recipe that is ready in under an hour from start to finish, less if you are using leftover potatoes.
Shepherds Pie Recipe
Ingredients
1 1/2 pounds ground beef
1 large onion, finely chopped
1/2 teaspoon salt or seasoned salt
1 dash pepper
1 cup beef broth
1 tablespoon Worcestershire sauce
2 tablespoons butter
2 tablespoons flour
1 1/2 cups frozen mixed vegetables, peas and carrots, or corn
4-5 potatoes, boiled
1 -2 tablespoons butter
bit of milk
salt and pepper to taste
Method
Step 1
For the filling, brown the meat and onion in a frying pan, seasoning with the salt and pepper. Add the beef broth and Worcestershire sauce. Cook for 5 minutes. Add the butter to the pan and let it melt. Stir it all together. Add the flour, gradually and stir to thicken the broth into a gravy. Add the frozen vegetables to the meat mixture and cook for 5 minutes.
Step 2
For the topping, mash the potatoes, using butter and a bit of milk to flavor them. Season with salt and pepper.
Step 3
Preheat the oven to 350ºF.
Step 4
Move the meat and vegetable mixture to a baking dish. Cover it all with the potatoes. Bake for 1/2 hour at 350ºF until the top is brown and the pie is heated through evenly.
Tips and Variations:
This recipe may be made several hours before serving. Brown and heat the pie in the oven just before serving.
If you prefer you can try this recipe with ground chicken or turkey. I haven't tried it, so I can't guarantee the results for taste, but give it a try. It will make it leaner and lower in calories than the traditional version of shepherd's pie.
Use fresh vegetables if you prefer. Add them to the frying pan just before adding the broth and cook them in the broth.
Shepherds Pie is originally a British recipe, but crossed the ocean and is now enjoyed pretty much all over the western world. And we are happy for that.
This is a great meal in a dish. All you need to do is add a side salad or some crusty bread and dinner is ready!
As readers of this site know, I love anything that makes things easier on the cook.
We are all far too busy these days, yet it is still important (maybe more now than ever) to put a great meal on the table to share with family and friends. This recipe fills the bill.
This is a very budget conscious meal too. Gather together 1 1/2 pounds of ground beef, some potatoes and a few vegetables and this meal is ready to serve up to 6 people.
I love ground beef recipes. They are delicious and really stretch the budget.
As always, feel free to make a few variations of your own. If you don't like peas, leave them out and use all corn or carrots. Love peas, add more. Cooking is rarely an exact science. You can usually adjust recipes a bit to suit your own taste.
If you like this recipe, I'd love you to Pin it to Pinterest, Tweet about it, Like it on Facebook and leave a comment and your own favorite recipes below.
This shepherds pie recipe is just one of our fantastic budget friendly ground beef recipes. Browse them all here.
Subscribe to the site here and never miss a great recipe.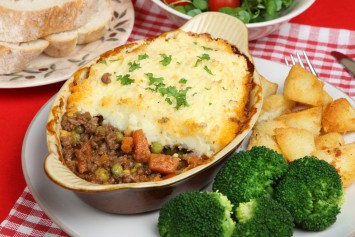 ---