Strawberry Pie Recipe
2013-05-20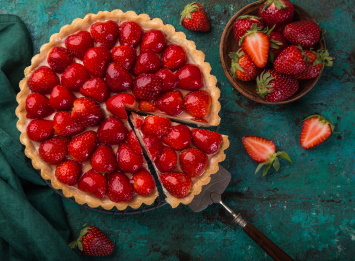 Average Member Rating
(5 / 5)
9 people rated this recipe
Yield :

1 - 9" pie

Servings :

6

Prep Time :

10m

Cook Time :

5m

Ready In :

15m
Nutritional Info
This information is per serving.
Calories

258

Calories from Fat

59

Total Fat

6.5g

Saturated Fat

3.6g

Cholesterol

16mg

Sodium

67mg

Total Carbohydrates

50.4g

Dietary Fiber

2.9g

Sugars

40.4g

Protein

2.2g

Vitamin A

4%

Vitamin C

141%

Calcium

3%

Iron

4%
This is a quick and easy fresh strawberry pie recipe that tastes like summer itself.
Strawberry pie, made out of fresh, especially local, strawberries is such a wonderful treat.
You wouldn't think it could be good for you, but strawberries are one of the healthiest foods around. (Okay I admit, the sugar isn't that great. But it is a treat.)
Fresh Strawberry Pie

Ingredients
1 single crust pie crust, prepared
6 cups of strawberries (about 1 1/2 quarts), divided
1 cup sugar or equivalent amount of sugar substitute
3 tablespoons cornstarch
2 tablespoons water
red food color if desired
3 ounces softened cream cheese
Method
Step 1
Mash enough berries to measure 1 cup. (Keep the nicest berries whole to use as the pie filling).
Step 2
Stir together sugar and cornstarch. Stir in water and crushed berries gradually. Cook all over medium heat, stirring constantly, until mixture thickens and boils. Boil and stir 1 minute longer. Stir in a few drops of red food coloring if desired. Let cool.
Step 3
Beat cream cheese until smooth. Spread it on the bottom of a cooled baked pie shell. Fill the shell with the whole strawberries. Pour cooled cooked berry mixture over the top. Chill for at least 3 hours to set.
One pie is about 6 servings.
Variations:
For strawberry tarts, just replace the pie pastry with individual tart shells. Follow the same instructions as the pie.
To change this strawberry pie recipe into one of the nicest fresh raspberry desserts, substitute 6 cups of fresh raspberries for the strawberries. An easy raspberry pie recipe.
Replace the strawberries with about 7 cups of sliced fresh peaches (about 7 medium peaches) for an easy peach pie recipe. To prevent the peaches from browning dip them in a mixture of ascorbic acid and water or lemon juice and water. Drain well before adding to the pie.
You will see in the "Variations" section above that this same recipe can be easily converted into a fresh raspberry or peach pie recipe, or into individual strawberry tarts.
Whatever way you make it, you just have to give this recipe a try.
Strawberries are not only delicious. They are super healthy for us. Eating them for dessert is not just a treat – it's good for us.
I have noted this as a Diabetic recipe because you can pretty much eliminate the sugar content if you want to. You can replace all or at least half of the sugar with a substitute like Stevia or coconut sugar. That would lower the carb count by an amazing amount and make this a healthy diabetic dessert. We all need a bit of sweet in our lives at some point!
If you like this recipe, I'd love you to Pin it to Pinterest, Tweet about it, Like it on Facebook and leave a comment below.
Subscribe to the site here and never miss a great recipe.
After trying this strawberry pie recipe, you will want to try more delicious strawberry, raspberry and blueberry recipes. Find them here.





---