As taco recipes go, this one is deliciously different.
It fills lovely soft warm corn tortillas with Italian flavors.
This is a really healthy dinner recipe, with grilled chicken, zucchini, onions, asparagus and red pepper, laced with a bit of Italian seasoning and cheese.
This very healthy recipe comes from a wonderful cookbook called 300 Best Taco Recipes: From Tantalizing Tacos to Authentic Tortillas, Sauces, Cocktails and Salsas
.
As you can imagine from that great title, this cookbook is filled with variations of taco recipes as well as tortillas, so many interesting mixtures and variations you could literally try a new recipe every night for close to a year.
Kelley Coffeen says this about her chicken taco recipe:
"This Italian-style taco is lightly flavored with olive oil and lemon juice in the true spirit of Santa Margherita, a little village on the edge of the Italian Riviera. The fresh, seasoned vegetables wrap flavor around the grilled chicken filling."
I really think you will love this one. Especially for those of you with picky eaters in the house, hidden in a yummy taco, these vegetables could actually get eaten.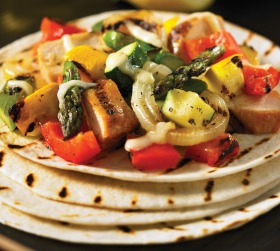 Taco Recipes: Grilled Chicken Tacos with Roasted Veggies
This taco recipe fills lovely soft warm corn tortillas with Italian flavors like grilled chicken, zucchini, onions, asparagus red pepper, and of course, cheese.

Ingredients
1 1/2

pounds

chicken breasts

,

boneless, skinless

4

tablespoons

olive oil

salt and freshly ground black pepper

1

zucchini

,

cut in half lengthwise

1

yellow summer squash

,

summer squash, cut in half lengthwise

1

onion

,

cut into 1/4-inch (0.5 cm) rings

1

red bell pepper

,

cored and cut in half

3

asparagus spears

,

trimmed

1

lemon

,

juiced

2

tablespoons

fresh basil

,

minced

8 - 6

inch

corn tortillas

,

skillet-warmed

1

cup

Mozzarella cheese

,

shredded
Instructions
Preheat greased barbecue grill to medium-high.

Preheat oven to 200°F (100°C).

Coat the chicken with 2 tablespoons (30 mL) of the oil. Season with salt and pepper to taste.

Grill the chicken, turning once, until no longer pink inside, 6 to 8 minutes per side. Transfer to a cutting board and let chicken stand for 6 to 8 minutes. Cut chicken into bite-size pieces. Transfer to an ovenproof dish and keep warm in a preheated oven.

Coat the zucchini, squash, onion, bell pepper and asparagus with remaining 2 tablespoons of the oil. Place vegetables in vegetable grate or on foil on the grill. Grill, turning once, until vegetables are tender-crisp, 4 to 6 minutes per side. Transfer to a cutting board and cut into bite-size pieces.

In a large bowl, combine chicken and vegetables and toss with lemon juice and basil. Season with salt and pepper to taste.

To build tacos, divide chicken mixture equally among tortillas. Top with cheese. Fold tortillas in half. Makes 8 tacos.
Nutrition
Calories:
281
kcal
Carbohydrates:
17
g
Protein:
24
g
Fat:
14
g
Saturated Fat:
4
g
Trans Fat:
1
g
Cholesterol:
66
mg
Sodium:
207
mg
Potassium:
583
mg
Fiber:
3
g
Sugar:
3
g
Vitamin A:
765
IU
Vitamin C:
37
mg
Calcium:
117
mg
Iron:
1
mg
Tips:
If the weather is not up to turning on the barbecue, feel free to cook the chicken and vegetables on an indoor grill.
You can also use precooked chicken or cook the everything in the oven for this recipe. Grilling does give both the chicken and the vegetables a marvelous flavor though, so it's best if you can use the grill.
Although the author calls for corn tortillas in this recipe, you can certainly use flour tortillas if you prefer.
This taco recipe is a fairly good diabetic recipe. Too many carbs are not good obviously, so I would only eat one tortilla if carbs are an issue. Load up on the chicken and vegetables though. They're perfect.

Subscribe to the site here and never miss a great recipe.
Delicious taco recipes are just some of Mexico's contribution to world cuisine. Check out all of our Mexican recipes here.
If you like this recipe, I would really appreciate it if you share it on social media. Thanks.