Jalapeno Turkey Burgers
2014-04-09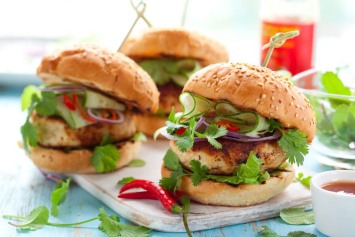 Average Member Rating
(4.9 / 5)
7 people rated this recipe
Servings :

6

Prep Time :

3m

Cook Time :

12m

Ready In :

15m
Nutritional Info
This information is per serving.
Calories

204

Total Fat

9.6g

Saturated Fat

1.7g

Cholesterol

104mg

Sodium

473mg

Potassium

275mg

Total Carbohydrates

8.8g

Dietary Fiber

1.0g

Protein

23.0g

Vitamin A

3%

Vitamin C

6%

Calcium

4%

Iron

12%
These turkey burgers play two roles – they are both healthy and delicious.
Here is a turkey burger recipe with a bit of heat from the jalapenos. If you like more heat, just add your favorite hot sauce to the raw burger meat or on top of the cooked burgers.
See more tips below on how to really bring out the flavors in this healthy burger recipe.
Turkey Burger Recipe

Ingredients
1 pound ground turkey
1 small onion, chopped
2 jalapeno peppers, finely chopped
1 clove of garlic, minced
1 egg, slightly beaten
up to 1/2 cup bread crumbs
salt and pepper to taste
Method
Step 1
Heat a barbecue grill or indoor grill to medium high or heat the oven broiler.
Step 2
Combine all the ingredients and form into 6 patties. Grill on medium high either under the broiler or on the barbecue for 5-7 minutes on each side, or until no longer pink in the centre.
Makes 6 servings if you make full size burgers or 12 to 18 burgers if you make this into a slider recipe.
Serve with salsa and shredded cheese if desired. The salsa really adds a nice touch, since ground turkey recipes need some extra love to really bring out the flavor of the meat.
Tips and Variations:
You can substitute ground chicken for the ground turkey in this burger or slider recipe. Both are lean and healthy meats and make great burgers.
As I said above, if you like more heat in your burger, simply add your favorite hot sauce to the raw burger meat or on top of the cooked burgers. You can also add more chopped jalapenos.
Leave the seeds in the jalapeno peppers for more heat, or remove them if you want your burgers less spicy.
To add even more flavor, try adding different cheeses to the burger, either on top or grated or crumbled right into the turkey meat. Try some feta cheese, extra old cheddar or blue cheese and see how you like it.
This is a fantastic recipe for diabetics. It is low carb and the turkey is a healthy low fat meat choice. Avoid the buns if possible (unless your blood sugar is well controlled) and serve the burgers with a huge salad and a side vegetable.
Subscribe to the site here and never miss a great recipe.
Look here for our regular hamburger recipe.
If you like this recipe, please take a moment to Pin it to Pinterest, Tweet about it, Like it on Facebook and leave a comment and your favorite recipes at the bottom of the page. Thanks a lot.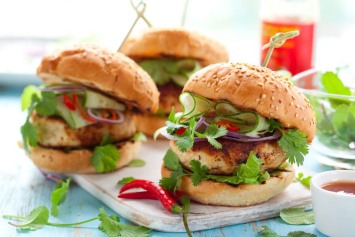 Recipe Comments
---