Vietnamese Spring Rolls
2013-05-25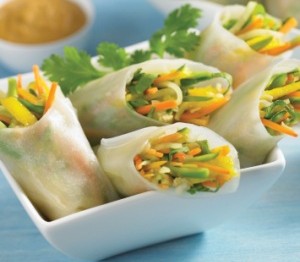 Average Member Rating
(4.5 / 5)
8 people rated this recipe
Prep Time :

20m

Cook Time :

0m

Ready In :

20m
Nutritional Info
This information is per serving.
Calories

100

Calories from

27

Total Fat

3.0g

Trans Fat

0.0g

Cholesterol

0mg

Sodium

280mg

Total Carbohydrates

12.1g

Dietary Fiber

1.4g

Sugars

3.9g

Protein

2.9g

Vitamin A

53%

Vitamin C

18%

Calcium

3%

Iron

4%
This lovely recipe for fresh Vietnamese spring rolls is not just vegetarian.
It satisfies the requirements for vegan recipes as well.
This delightful recipe comes from a cookbook called 750 Best Appetizers: From Dips and Salsas to Spreads and Shooters
by Judith Finlayson and Chef Jordan Wagman.
Try them as an appetizer the next time you have people over for an Asian themed meal or as a wonderful finger food recipe for your next party.
Vietnamese Spring Rolls

Ingredients
2 tablespoons (30 mL) soy sauce
2 tablespoons (30 mL) sweet Asian chili sauce
1/2 teaspoon (2 mL) toasted sesame oil
1/2 teaspoon (2 mL) rice vinegar
1/2 teaspoon (2 mL) minced garlic
1/2 teaspoon (2 mL) finely chopped pickled ginger
1/4 teaspoon (1 mL) minced ginger root
2 cups (500 mL) shredded baby bok choy
3/4 cup (175 mL) julienned blanched asparagus (see Tips, below)
3/4 cup (175 mL) julienned peeled carrots
1/2 cup (125 mL) julienned English cucumber
1/4 cup (60 mL) julienned mango
1/4 cup (60 mL) finely chopped toasted peanuts
8 - 10-inch (25 cm) rice paper wrappers
3 cups (750 mL) hot water
Dipping sauce, optional (see Tips, below)
Method
Step 1
In a bowl, combine soy sauce, chili sauce, oil, vinegar, garlic, pickled ginger and minced ginger.
Step 2
For the rolls:
In another bowl, combine bok choy, asparagus, carrots, cucumber, mango and peanuts. Add 2 tablespoons of the dressing and toss well. Divide the vegetables into 8 equal portions.
Step 3
Working with only one rice paper at a time, submerse the sheet in hot water until pliable, which will take about 30 seconds. Place it on a work surface.
Step 4
Spread one-portion of the vegetable mixture in a strip across the rice paper wrapper about one-third away from the edge closest to you, leaving about 1 inch (2.5 cm) on either side. Fold the edge closest to you over the filling and pull gently toward you to encase the filling. Fold the sides toward the middle, then continue to roll up tightly.
Step 5
Place the rolls under a damp cloth to stay moist because the wrappers tend to dry out quickly. Serve the rolls immediately with the dipping sauce below, if using, or refrigerate for up to 1 hour. Serve them whole or for a small hors d'oeuvre, cut in them half on the diagonal and place them on a serving platter.
Step 6
Makes 8 rolls
To make a wonderful dipping sauce:
In a small ramekin, combine the remaining dressing with 1/4 cup soy sauce and 1 tablespoon coarsely chopped peanuts.
Tips:
To blanch the asparagus boil them for just a minute, then remove from the boiling water immediately. They will be just partially cooked. Cook them for 2 minutes if you want them to be just a bit softer. It is best if they are not cooked right through as a bit of crunch is nice in this recipe.
To julienne asparagus, cut each spear into thin slices lengthwise and slice those slices into thin strips.
Here is another great idea. If you don't want to use the rice paper wrappers, or to keep it very low carb, use lettuce leaves to wrap the filling. Use softer lettuce with large leaves like iceberg or Boston lettuce and roll them exactly the same way as you would with the rice paper wrappers.
Author Judith Finlayson says this about her wonderful spring rolls recipe: "This is almost a two-for-one recipe -the fresh rolls are wonderful all on their own but the leftover marinade creates the perfect dipping sauce."
I think you will love these healthy Vietnamese spring rolls and the fantastic dipping sauce. They are absolutely delicious and oh so easy to make.
Subscribe to the site here and never miss a great recipe.
If you like this recipe, I'd love you to Pin it to Pinterest, Tweet about it, Like it on Facebook and leave a comment and your favorite recipe at the bottom of the page.
Try these wonderful fresh Vietnamese spring rolls with other recipes from our Asian recipes collection.




---