Vinarterta Cake
2013-07-12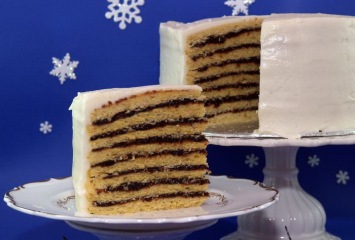 Average Member Rating
(4.2 / 5)
20 people rated this recipe
Prep Time :

60m

Cook Time :

10m

Ready In :

1:10 h
Vinarterta Cake is a special occasion cake and a classic Icelandic recipe. There it is thought of as a Christmas recipe, but there is no reason not to make it any time of the year.
This very different recipe was shared with us by my good friend Evelyn V. of Toronto ON. Thanks Evelyn. It's always nice to see how other cultures celebrate and share food during holidays.
You will notice that the cake is made up of cake/cookie layers with a filling in between. It is then allowed to soften together before serving.
Vinarterta Cake
Ingredients
For the Cake: 1 cup butter
1 1/2 cups fine granulated sugar
2 large eggs
2 tablespoons cream
4 cups flour (approximately)
1 teaspoon baking powder
1 teaspoon spoon almond extract
2 teaspoons ground cardamom seed
For Filling: 1 pound prunes
1 cup sugar
2 tablespoons cinnamon
1/2 cup water that prunes were boiled in
Method
Step 1
Stone the prunes if they still have their stones. Boil them and put them through a food chopper. Mix with the sugar, cinnamon and water. Bring the prune mixture to a boil and add 1 teaspoon of vanilla. Boil for about 15 minutes. Keep warm for spreading on the cakes.
Step 2
Preheat the oven to 375ºF.
Step 3
Cream the butter. Add the sugar gradually then add eggs one at a time. Add dry ingredients, flavoring and cream. Add all the flour and knead (don't knead too much).
Step 4
Divide the dough into 6 equal parts. Place each part on the bottom of a round tin. First you flatten the dough with your hands, to fit the tin. To get it nice and even put a wax paper over the layers and with a glass or rolling pin, lightly roll over it.
Step 5
Remove the wax paper and with a fork, make small holes in the layers. Bake them to a golden brown color at 375ºF degrees for about 10 minutes.
Step 6
Remove each layer from its tin and cool before putting together with the prune filling. When cooled place one cake layer on a flat plate, add a layer of prune filling and continue adding cake and filling layers, with the cake layer being the top.
Step 7
Cover with butter icing if desired.
Notes:
This cake freezes well and thaws quickly when needed.
It's best to make the cake at least several days before you need it and store it in closed tin in the fridge to season it. The flavor will get stronger and the cake/cookie layers will soften to make it easy to cut.
This Icelandic cake is a bit of work but it's worth it.
Like this recipe? I'd love you to Pin it to Pinterest, Tweet about it, Like it on Facebook and leave a comment below.
Subscribe to the site here and never miss a great recipe.
This Vinarterta cake is just a sample of the great dessert recipes you will find here.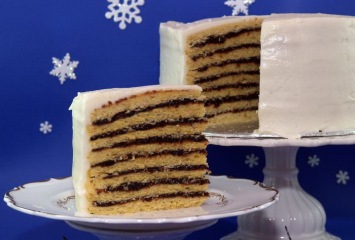 ---