10 Easy Muffin Recipes, Sweet and Savory
Here are 10 easy muffin recipes you won't want to do without. Some are sweet, some are savory, but they are all absolutely delicious.
I love muffins. They are a quick snack any time you are in the mood for muffin goodness, which can be quite often!
Muffins have so many uses. They are great for breakfast or a tasty snack but you can serve them pretty much any time of the day. Imagine brunch with a basket filled with a variety of steaming hot muffins. Use them as a side bread with a lunch salad or alongside a one pot dinner like stew or soup.
I always enjoy the basics, like a moist bran muffin loaded with raisins, but I like to switch it up and try a wide variety of flavors and add ins. You will find a real mix of all of that in this collection.
Savory muffins are certainly just as delicious as the traditional sweet ones. Savory muffin recipes, like our cheese and spinach muffins and the bacon muffins make a great bread replacement when you are serving tummy warming soups, chilis and stews and want a delicious side to go with it. They are also wonderful when you have a lighter meal, but want just a bit of something that will fill you up.
Yes, muffins CAN have vegetables in them. As I said above, I love the cheese and spinach recipe below, but how about ham, cheese and broccoli muffins with steaming soup or a great salad? They're delicious and make you feel less guilty than if you were reaching for an overly sweet muffin.
And vegetables make the muffin healthier. Our carrot, zucchini and banana muffins are a great example of that.
These easy muffin recipes are some of my favorites. They range from sweet to savory and from the classics to new takes on our all time favorites.
Have a look and see what muffins make your mouth water and bring on that urge to make a big batch right now.
Apple Cinnamon Muffins
Sometimes the classics are what you really want – like these apple muffins with warming cinnamon. These muffins are perfect for breakfast. They are studded with bits of apple and crunchy with nuts. They taste so much like warm apple pie that Cheryl, who sent me this recipe, calls them just that – apple pie muffins. Try these cinnamon apple muffins.

Cheese and Spinach Muffins
I love savory muffins too and these spinach muffins with two kinds of cheese are SO delicious. Studded with pieces of red pepper they are colorful too. Change the pepper to jalapenos if you like things hot. Whatever way you like them, you'll want to try them.
Date and Orange Muffins
These muffins are just a bit different, combining the flavors of orange and date. I've always thought I didn't like dates but recently discovered that I quite like them. They combine really nicely with the orange in these delectable muffins. To give them a try, get the full recipe here.
Pumpkin Bran Muffins
Bran muffins have to be my absolute favorite. Here is a recipe that combines bran with healthy pumpkin for great taste and extra nutritional value. These are really healthy muffins with whole wheat flour and yogurt. The yogurt makes them extra tender and yummy. The full recipe for our pumpkin bran muffins is on the site here.
Ham Cheese and Broccoli Muffins
Another of my favorite savory muffins, this one is filled with goodness – ham, cheese and broccoli. It's a wonderful combination of flavors and perfect to eat with chili or a bowl of soup. Or just on it's own as a great snack or breakfast muffin. Leave out the ham if you want it to be vegetarian. Get the recipe for our ham, cheese and broccoli muffins here.
Bacon Muffins
You just can't beat bacon, so why not put them in an easy muffin recipe? These savory bacon muffins make perfect breakfast muffins, but I love them any time of the day. Bacon muffins with chili? Yes please! If you love bacon, these are a must try. You can find the full recipes for these amazing savory muffins here.
Orange Cranberry Muffins
These delightful fruit muffins are sweet tart with orange and cranberries. You can use either fresh or frozen cranberries in this recipe which includes both orange juice and orange zest. They would be great for lunch or brunch with a salad, for breakfast or a tasty snack. Get the full recipe here.
Pineapple Carrot Muffins
My favorite version of carrot cake has pineapple in it, so of course transfer all of that to a delicious muffin. And make that muffin healthy – this muffin is sweetened with just a bit of honey. The carrots and crushed pineapple add sweetness as well. I just love these muffins because they feel like dessert but are quite healthy. Have a look at the recipe here.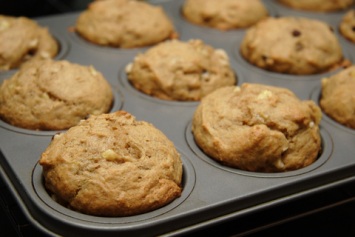 Carrot, Zucchini and Banana Muffins
This muffin has healthy written all over it with it's combination of fruit and vegetables. Carrots and zucchinis meet bananas in this fantastic muffin recipe. If you have non vegetable eaters in the house, this may well be the muffin for them. Grate the veggies small enough and they won't see a trace of them. They'll just taste the lovely sweetness of the bananas and that taste of something that they just can't place. Get the full recipe right here.
Oat Bran and Blueberry
I think blueberry muffins are one of most people's favorites. This one gets the extra healthy treatment with the use of oats and oat bran. The buttermilk in the recipe makes them super tender. Look in the tips for what to do if you don't have buttermilk. This muffin recipe is a keeper. Click here to get the recipe and tips.
Don't forget to sign up here and always be the first to get new recipes and tips.
To browse all of our muffin recipes, along with breads and quick breads, click here.
For gluten free muffins look here.
---